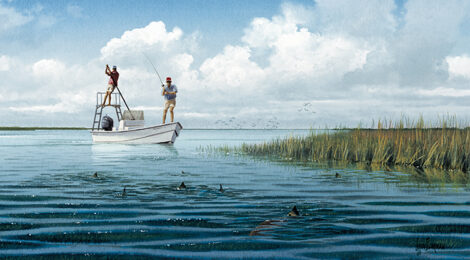 Fishing coastal waters during the heat of summer requires a skill set that takes years to develop. The ability to understand all of the climatic and tidal pieces, combined with the eyesight to read and interpret the water is paramount. Add to this the knowledge of gamefish habits and tendencies plus offering the right lure to entice these fish to strike takes years to develop.
There is another option — that is to fish with a guide or someone that already has mastered this ability. Fishing from a "Guide Boat" the title of this month's cover art painted by popular Texas artist John Dearman depicts this stealthy approach.
Along a grassy shoreline tails are spotted and the guide positions the boat so the angler can cast from the bow his offering. Will the first cast be successful resulting in a hook up or does the guide have to hold the boat in position until subsequent cast has a fish – on.
For more information on "Guide Boat" or John's voluminous portfolio of original fine art and print images contact Cletus Dodd at The Kipling Company by email at cpd@gbpllc.com or call (713) 542-4944. – Bill L. Olson