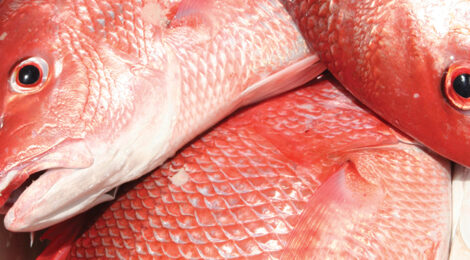 Red snapper, kings, ling and more make up the bountiful pelagic quarry anglers seek from Texas' Gulf waters.
Story and photography by Robert Sloan
Just because red snapper season is open in federal waters doesn't mean you need to make an offshore run just to ice a few snapper and then head back in. Making an offshore run is all about having fun and that translates into being in the hunt for other species of pelagic fish like kings, ling, dorado plus tripletails to name a few. They all fight hard, taste great on the table, plus they are easy to catch if you know where to find them.
First of all let's take a look at red snapper. They are by no means in short supply along the Texas Gulf coast. I know of a whole lot of snapper spots that are so loaded with these fish you can't get a bait to the bottom without getting whacked. In fact, at a lot of snapper hot spots you can pull up on them and the snapper will come to the surface, hundreds of them.
One of my most memorable days of snapper fishing was out of Galveston. We went out in a 24 foot center console and ran wide open in smooth seas to the nearest shrimp boats. A lot of times the best action around a shrimper can be right at dawn when the deck hands are shoveling the by-catch overboard after a night of dragging their nets.
The first shrimper we hit had just anchored up and was culling big time piles of by-catch. The water was churned up at the boat by sharks, jack crevalle, kings and bonito. They all wanted in on the action. So did we.
But we were after red snapper so we set up a drift about 50 yards behind the shrimper and started catching huge snapper on every cast. It was crazy. They were down about 30 feet gorging on the deep line of chum. 
************************************************************************
To read more, click here to SUBSCRIBE