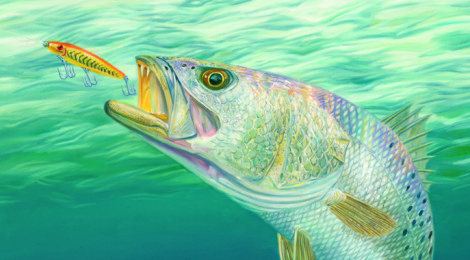 For anglers fishing the Texas coast, June is the month for speckled trout. It doesn't matter whether you are throwing live bait or artificial offerings, spotted sea trout will take just about anything cast their way.
Wildlife artist Randy McGovern's "Strike Zone – Speckled Trout" is the perfect painting representing the sixth month of the year and a month of fairly "easy pickings" for coastal anglers. As depicted in the June cover art, hard baits or soft plastics will certainly catch their share of trout, and make just about every lure thrown look like a "go-to" bait.
McGovern's companion painting "Red Hot – Redfish" was the cover art for March 2014 issue of TOJ. This popular artist also painted the redfish scene selected as the 2011 Texas Saltwater Stamp Print.
For more information on "Strike Zone – Speckled Trout" or other works of art by Randy McGovern, visit www.mcgovernwildlife.com, or call (770) 424-0450