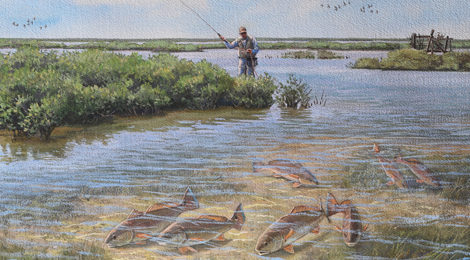 June can be just about perfect when it comes to coastal fishing. Mild to moderate temperatures, light winds and active fish entice anglers to head shallow early and late in search of their quarry.
Popular Texas artist Calvin Carter's "Shallow Water Hunter" has capture a moment in time for one angler that opted to use a flyrod to sightcast to and entice a redfish to react to his offering. The angler's stealthy approach, utilizing an available spoil island and mangrove cover to get close enough to gently lay a fly in front of a feeding school of reds. It's an adrenaline rush that builds from the moment the fish are spotted until one is finally brought to hand.
June is one of those months when the prospects of all ingredients coming together are high. The fish are there and all anglers need to do is find time to hunt for their favorite gamefish specie.
For more information on "Shallow Water Hunter," other fine works of art or commissions by Calvin Carter, visit www.calvincarterart.com, email mcalvincarter@yahoo.com or call (409) 201-6685.