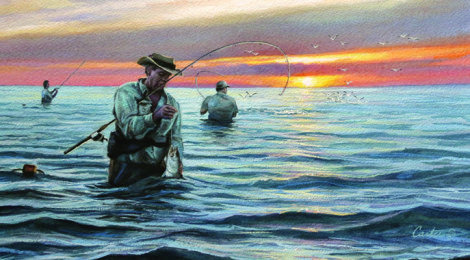 May is a special month along Texas's Gulf coast.  Waters have warmed so coastal anglers start wading "wet" as they pursue voraciously feeding speckled trout.  As the light fads on the distant horizon quality trout are hooked while birds feed over bait pushed to the surface by other fish.  It's been a great day and time to catch some fish.
Popular Texas artist Calvin Carter's gouache painting entitled "Sunset School" has capture so many elements of fishing Texas inshore waters in late spring.  As the day wanes there is crispness to the air that allows for a colorful backdrop to the end of what has be an awesome day.
For more information on "Sunset School" and other works of art by Calvin Carter visit www.calvincarterart, or call (409) 201-6685.