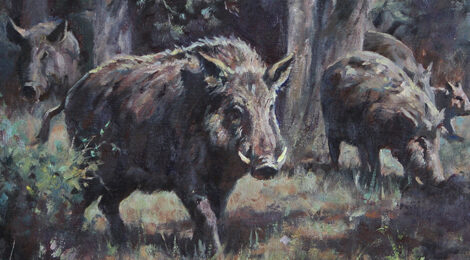 Last month's description of the cover art stated, "Find water and there's a good chance you'll find a variety of wildlife and game animals." This month's cover art entitled "Midnight Marauders" takes that thought to a whole new level particularly when dealing with or hunting wild hogs. Hogs can't exist without water to cool their body temperature or to find nutritional items to sustain them.
Popular Texas wildlife and landscape artist Brian Grimm agreed to take on this assignment when over the years few artists, art publishers and even art retailers said paintings of hogs would not be embraced by the art collecting public. After five years of hog paintings on our May issues from artist across the United States to renowned international artist from several European countries where hogs originated and are still highly revered as game animals, it seems the negative assessment missed the mark. Instead of shunning this type of art and content this concept has been thoroughly embraced by our readers and subscribers.
Take some time and continuing to study Grimm's painting. The first thing noticed is a sounder of wild hogs making their way on a moonlit night from the shady sanctuary of an oak or elm mott. Nocturnal movement during the cooler periods of the day is noted as the big boar's tusk reflects the moonlight glistening off its ivory.
Rain has recently fallen and a hog takes advantage of the soft ground to root for whatever its snout has smelled as something to eat. Beyond it is a young shoat and another pig. Continuing to examine this 14" x 11" original oil on board painting and another hog is spotted emerging from the dark timber and brush sanctuary where they have avoided the heat during daylight hours.
The interesting thing is this painting could be in any number of places across the Lone Star State.  They would range from the hardwood bottoms of East Texas to oak motts in South Texas or along riparian areas in Central, North and West Texas or even the Panhandle.  It is a painting that will bring a smile to so many as they recall having experienced such a hunting experience while pursuing these challenging invasive wild swine. For more information on the custom framed original "Midnight Marauders," availability of a giclee or to inquire about other fine works of art or commissions by Brian Grimm, visit www.briangrimmart.com, email BrianGrimmArt@gmail.com or call (830) 456-6809.  — Bill L. Olson
************************************************************************
To read more, click here to SUBSCRIBE