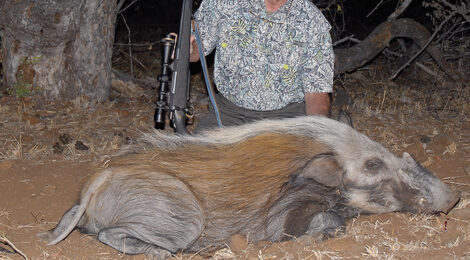 Some revered while others met with disgust, but regardless of location all offer a challenge to hunt.
Story and photography by Bob Zaiglin
In late May, 2012, Jan and I crossed the big pond for the sixth time to once again pursue Cape buffalo. With four dagga boys already to my credit, my goal was to take a bull in Zimbabwe with horns that exceeded the magical 40 inch mark, but with a rich diversity of animals inhabiting the thornscrub, one never knows what will show up and a bush pig was high on my bucket list.
Now, a Texan would have to be a little off to travel 10,000 miles from home to hunt a pig, but the opportunity to take one of these unique African species while pursuing an old dagga boy would be ice cream on the cake. The problem was I had failed to see a single one on my previous safaris, verifying just how rare they are, but their evasiveness only intensified my desire to take one.
Arriving late on the 20th of May at the Las Mulas camp located on the southern portion of the 800,000 acre Bubye Valley Conservancy hunting concession in southern Zimbabwe, we had just enough time to pop a couple of caps with my .375 and .7mm before darkness blanketed the Lowveld.  Per instructions from Jan, a surprise birthday cake was brought to our table by the cooking staff and we celebrated my 60th birthday.  Totally caught off guard, it remains one of my fondest memories in the bush and was an excellent way of jumpstarting what was one of my most memorable safaris.
************************************************************************
To read more, click here to SUBSCRIBE