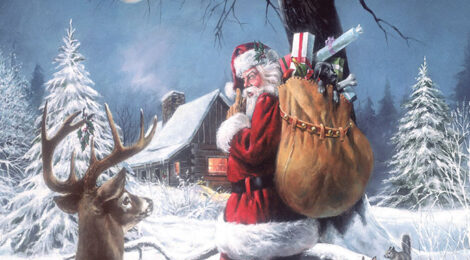 This month's cover art by renowned artist R.J. McDonald is entitled "Santa's Secret." It should bring a smile to every readers' face as well as bring out the "kid" in each.
What more appropriate painting for the Christmas issue of TOJ. Jolly Saint Nick making his rounds with a bag full of goodies over his shoulder. You just know there is probably a few Daisy Red Riders, fishing rods and/or reels, plus even a few subscriptions to TEXAS OUTDOORS JOURNAL inside.
Plus the man in the red suit stops to acknowledge the critters that come out to great him. And for anyone that questions reality of the snow-covered backdrop just remember the surprise winter storm this past February that blanketed the Lone Star State with white stuff.
Ralph, as he is known to his friends was Duck's Unlimited's Artist of the Year in 1981. In 2006 for a second time he was named DU's International Artist Of The Year. In the summer of 2006 Ralph was inducted into the National Outdoor Legends Hall Of Fame.
Each of the past 14 years McDonald has produced a painting of a young boy or girl in a waterfowl setting for Ducks Unlimited.  Prints of these paintings have been auctioned at the organization's dinners throughout the United States and Canada with proceeds raising over $27 million for DU's conservation projects. For more information on "Santa's Secret" and other fine works of art by Ralph J. McDonald, visit www.countrysidestudio.com, or call (615) 452-5851 or (615) 767-4480. — Bill L. Olson
************************************************************************
To read more, click here to SUBSCRIBE