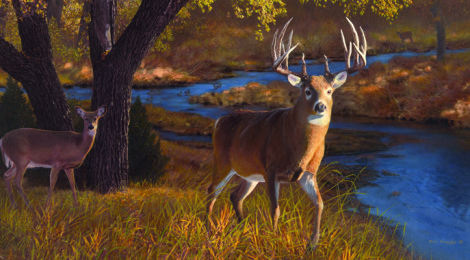 Award-winning wildlife and sporting artist Pat Pauley has built a substantial reputation with the way he illuminates or shades game animals he paints. Pauley has been named "Artist of the Year" by most every conservation organization in North America.
This month's cover art, "Autumn Encounter" captures a scene that may be a prelude to what deer hunters will experience in the Hill Country, North Texas, or other parts of the Lone Star State blessed with rivers and creeks that are once again flowing, as well as rolling hills. "Autumn Encounter" also has that special cross lighting that is so prominent in many of Pauley's paintings.
Texas deer seasons for archery hunters opens Oct. 3 with the general season opener on Nov. 7. Hunters will certainly enjoy the change in fall foliage, hearing the sound of flowing water, and the best prospects for a trophy buck in years.
For more information on "Autumn Encounter" and other works of art by Pat Pauley visit www.patpauleyart.com, or call (402) 312-3031.