Story and photography by Bill L. Olson
Next to the opening date for whitetail deer hunting season, September 1 maybe the most anticipated day for hunters.  Even though Texas has year round regulated hunting seasons plus non-game animals available to hunt every day of the year, the opening of dove season signals the start that new days afield have arrived.
Mourning, white-winged and white-fronted dove are our regulated migratory gamebirds.  Add to this mix the invasive, unregulated Eurasian collard dove that has no season or bag limit, and the shooting opportunities are significant for this most social form of hunting.
The question surrounding the state of our dove populations and their availability across the regions of the Lone Star State seems to be more significant this year.  Beyond the anticipated hunting season openers there are concerns as to how dove have recovered following the freeze from Winter Storm Uri in February 2021 and how their response may, or may not have been impacted by the ongoing drought.
We have dubbed Owen Fitzsimmons, Texas Parks and Wildlife Department's Webless Migratory Gamebird Program Leader, "The Dove Guy."  He has provided preliminary estimates as to the lingering and current impacts weather related events have on these popular gamebirds.
He began his population assessment with a caution, "Keep in mind these are estimated breeding adults that are only a part of the picture when it comes to September numbers.  I think our spring numbers are more a reflection of recruitment the year before than what we'll see in September this year.
"It's interesting to look at what was provided last year in hindsight.  I wish I had a good way to measure hatch-year production before the season, but that's all based anecdotally on reports from the field and somewhat from our banding age ratios."
Fitzsimmons noted that this year's recruitment data would not be available until after the season is over.  However, he believes once released that report will likely have the same basic information.
Below are some initial stats/thoughts from this year's dove surveys he provided for this report.  He explained the methodologies in which data is collected and evaluated.  "For reference, TPWD conducts surveys every May-June to estimate the spring breeding abundance for mourning and white-winged doves in Texas.  We have two similar survey methodologies; one that focuses on rural areas primarily for mourning doves and one that focuses on urban areas primarily for white-wings."
The report reflected the following numbers, data and observations:
STATEWIDE:
"MOURNING DOVE — The initial 2022 statewide mourning dove breeding population estimate is 19.8 million, which is about 30 percent below the long-term average (2008-21) and 15 percent below last year.  The statewide estimate has been below average for the past few years, primarily due to lower overall numbers in areas of the North Zone.
"The High and Rolling Plains and the Oaks and Prairies eco-regions are major contributors to the statewide population so when numbers are lower there it drives the overall estimate down.
"Eco-regions in the rest of the state are mostly within normal annual variation this year.
"WHITE-WINGED DOVE – The initial 2022 statewide white-winged dove breeding population estimate is 10 million, which is just about average long term and slightly below last year.  White-wings expanded in range and abundance in Texas the past few decades but seem to have leveled off the past six to seven years.
"Outside of their historic range in south Texas, these birds are mostly urban, including the rest of Texas and all the other states they continue to expand into.  They are breeding as far north as Nebraska and Colorado now, and vagrants are being spotted all the way into Canada."
Fitzsimmons stated he is still waiting on state and federal harvest estimates from last year, but it was definitely a slow September across much of the state in 2021.  "We had a number of severe spring storms that knocked back nesting in some areas, followed by one of the wettest and coolest summers in Texas history.  We don't get great technical insight into dove production until after the season when we can analyze hunter-harvested wings, and I still don't have those numbers from last year yet, but I think the weather and habitat conditions last year likely resulted in lower hatch-year recruitment than expected.
"Birds were very scattered until things started drying up in October, making for a tough early season.  This year, we're seeing the complete opposite.  This summer is shaping up to be one of the hottest and driest we've ever seen and doves seem to be doing really well.  They seem to love a drought.
"Our district biologists are reporting mostly excellent hatch-year production across the state.  I'm getting a lot of very positive reports of more and bigger groups of birds than we've seen the last few years.
"Doves tend to be more productive in drier vs. wetter conditions and hatch-year birds make up a major portion of the September harvest.  While spring breeding estimates in some areas are below-average (likely a lag from poor recruitment last year) I think we're seeing a very productive spring and summer that will add millions of young birds to the population before September.
The drought should concentrate birds at food and water sources, making for some great hunting opportunities.
REGIONAL REPORTS:
HIGH PLAINS:   "Mourning dove estimates are 30 percent below long-term average, but I'm getting very good reports from our field staff of hatch-year production and seeing large groups across the area.  White-wing numbers are slightly below the long-term average, but up 30 percent from last year."
ROLLING PLAINS:  "Mourning dove estimates are 35 percent below average and similar to last year.  So far, I'm hearing mixed reports from the field.  Reports are much better further north in this region (Abilene up through eastern panhandle).  White-wings are down slightly in this region."
EDWARDS PLATEAU:  "Mourning dove and white-wing estimates are down 10-15 percent from long term averages.  Hearing mixed reports here, as well, but where birds are found they are in good numbers.  This is one area hit hardest by the drought right now.  Water is key."
OAKS & PRAIRIES:  "Mourning dove estimates are 29 percent below the long term average and white-wing estimates are 13 percent below average.  Hearing mostly positive hatch-year production reports from field staff.  I'm seeing excellent production in the Austin-San Antonio area.
"Drought is in the "exceptional" category for most of this eco-region.  Water and food resources will be limited so birds should be very concentrated this season.  Expect good hunting over water or grain."
EAST TEXAS:  "Mourning dove estimates are slightly above average.  White-wing estimates are 133 percent above average, mostly due to expansion into this area in recent years."
TRANS-PECOS:  "Mourning dove and white-wing estimates are 46 percent and 41 percent below average, respectively.  This area has high annual variability so percentage swings of that magnitude are not unusual, but estimates are low this year.  However, I'm hearing excellent reports from our biologists across much of the region, especially further west towards Van Horn and El Paso."
SOUTH TEXAS:  "Mourning dove estimates are slightly below average (5 percent), but the near-record numbers last year skewed the average up quite a bit so this year's estimate is still high, relatively. White-wing estimates are 38 percent above average, which is huge in an area that is considered a white-wing stronghold.  Reports from the field have been good across most of the region.  I'm expecting a very good season here this year."
GULF COAST:  "Mourning dove estimates are up slightly at 6 percent above average, and up 13 percent from last year.  White-wing estimate is 22 percent below average, but near median numbers.  I'm hearing good reports for mourning doves across much of the region."
Besides the report provided by TPWD we also reached out to guides, outfitters and landowners in prime hunting areas across the state.  Scott Huggins, owner of AMR Properties that offers membership and individual hunts on tens-of-thousands of acres of prime hunting land across Texas for a variety of game species said, on the 14,000 acre Coralina Ranch near Fort McKavitt no crops were planted and things were pretty dry.
"Surprisingly there are still groups of six to 12 dove attracted to all of our deer feeders.  We feed a blend of roasted soybean and black-eyed pea in 58 one ton feeders that are spinning year-round.
"After the February 2021 freeze all of the dove were pushed out of this area and we didn't see them.  This year we are seeing more native birds as noted as well as a few more Eurasian collard dove.
"This ranch doesn't have stock tanks but rather relies on water troughs.  Ranches that have a good water supply still have great animals and dove are no different.  Those birds will be around windmills and water troughs.
"East of Breckenridge we have the 8,000 acre Caddo Ranch that has scattered patches of native sunflowers.  This part of the state has gotten some spotty rains but still the native vegetation is pretty weak.  Resident birds have come back and we will see migrating birds from the north as the season progresses and cold fronts push them south."
Ryan Gardner of 24 Outfitters has property around the greater Abilene area including Baird, Clyde, Abilene, Winters, Ballinger and Bronte.  Besides his own holdings he continues to acquire additional quality properties further north in this region.
"Farmers didn't plant any seed crops this year," he stated.  "However we still have lots of winter wheat grazing-fields left over from last year.  The farmers didn't harvest last year's wheat crop because it only grew to about three to four inches tall and trying to harvest it would have mess up the combine heads.
"We are seeing a few more dove.  However water is critical.  We usually have 30-40 tanks and with the drought are down to eight to 10.
"Our resident birds will carry the brunt of the early hunting pressure until they are pushed out.  Then we will look for the migration of northern birds to come in and offer some renewed shooting starting the last weekend in October.
"What is abundant in this area are sandhill cranes.  We are offering specialty sandhill crane hunts this season and we've got a lot of those birds to hunt."
Down in the Rio Grande Valley, Mike Sutton, owner of Getaway Lodge – Port Mansfield said last year they experienced really good hunts up until the last weekend of the season.  He expects to see another pretty good year based on reports from farms he and his clients will be hunting.
"From all of our reports I think we may have more birds than last year.  These birds seemed to be doing well given the drought conditions being experienced.  We had some scattered rains in late July that helped.
"There has been a great milo harvest in South Texas.  Some farmers will plow it under after the last harvest while others will leave it to head up once again for the birds.
"As of early August our sunflowers have fully developed, mature heads.  Those fields are going to be a big attractant for birds so it looks like a pretty good year is shaping up."
Uvalde has long been known as a haven for dove and dove hunters.  As of early August Justin Speer of Speer Ag and Fortified Cottonseed said sunflowers were running a little late and not yet mature.  However he expects them to be mature by the middle part of August in time to attract and hold birds.
"The biggest challenge is water," he said.  "Where there is water there will be birds.  Native pastures are pretty well burned up but around irrigated farmland the sunflowers are doing well and there will be a reliable source of water for the birds.  Look for dove activity to be pretty good and more concentrated due to the available crops and water."
Traditional fall hunting seasons are upon us so everyone needs to be extra careful, observe safe zones of fire and certainly watch out for each other when retrieving downed birds.  Enjoy the hunt, the harvest and those tasty mesquite grilled bacon-wrapped dove breasts.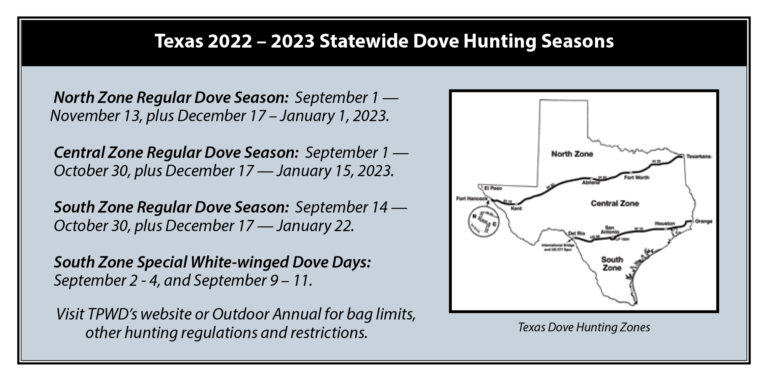 ************************************************************************
To read more, click here to SUBSCRIBE