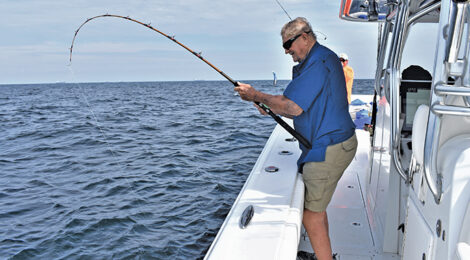 Gulf of Mexico fishing adventures come together this month that include a variety of tasty target fish.
Story and photography by Robert Sloan
We have a lot of target fish in the Gulf of Mexico but one that is totally unpredictable is a ling. These fish get big, they are tough and will hit just about anything that won't eat them first. Plus they taste great.
That's just one of the game fish we can target throughout the summer months. Others, that we don't have to run 100 miles to catch, are king mackerel, red snapper, dorado, grouper, jacks and even tarpon. All are hard fighting and easy to find, on most days. The other benefit is they will hit all sorts of lures along with live and dead baits.
But, like I said, a ling is an all-time fun fish to tangle with. The state record was caught on May 9, 1998 in the Gulf and weighed 108.44 pounds. The average weight of a ling, a.k.a. cobia, is 25 to 30 pounds. But it's not unusual to have a monster class ling swim right up to your boat. That's one thing these fish are known for – their curiosity, kind of like a cat.
Last summer I was fishing an artificial reef located about seven miles offshore between Rockport and Port O'Connor. We had just pulled up on the reef and tossed a handful of fresh chopped Spanish mackerel into the clear blue green water.
I was with a few longtime fishing buddies and as we drifted across the reef a huge ling glided out of the depths and began to inhale the chunks of mackerel. Talk about anglers going crazy that can do it. Usually, it's a race to see who can get the first bait in front of the ling.
A buck tail jig in yellow, chartreuse or white that is tipped with a whole or half of a sardine, or cigar minnow will almost always get the attention of a hungry ling. But low and behold this particular fish ate all the chum and disappeared. We were left scratching our heads.
************************************************************************
To read more, click here to SUBSCRIBE