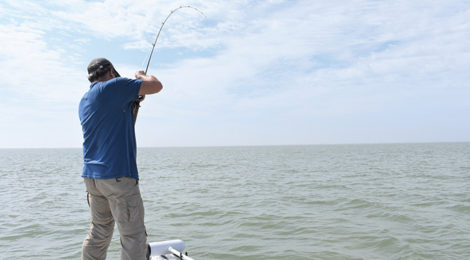 Matching the right size bait, tail shape and color to conditions equals successful fishing.
Story and Photography by Robert Sloan
East Matagorda Bay is nothing but aces in my book. Located on the middle Texas coast this isolated bay is big time popular among the hardcore anglers for one very good reason – it continually produces rock solid numbers of trout. I'm talking about 25 inch plus fish that can be caught either by wading or drift fishing.
One of the very best at catching a mix of trout, reds and flounder here is guide Charlie Paradoski. For decades he's been putting hundreds of anglers on fish at this bay and on West Matagorda Bay. I've been fishing with him for years and can say for a fact he is one of the very best at catching big trout along the Texas coast.
Just recently I hooked up with him on a foggy and dreary day that most fishermen would not even think about fishing. It started out cold, the fog was thick and just managing to navigate in such a mess was a test. But, as usual Paradoski had his boat tied off to the dock at 7 a.m. and was ready to get into another day of fishing.
Paradoski is not your run of the mill person. After serving in Vietnam, he went to Sam Houston State University and eventually went to work at Sears where he worked until retirement. But on his off days, he spent many years fishing up and down the Texas with one of the best trout fishermen ever – Rudy Grigar. From there he ended up calling East Matagorda Bay home.
We left the dock and made the run up the ICW to a cut that led into East Matagorda Bay.
"We're going to set up for drift fishing over mud and shell today," he said. "The trout bite has been pretty good lately, with lots of small fish being caught. But, if we can get a break in the fog, and get some sun light we stand a good chance of catching one or two really good trout."