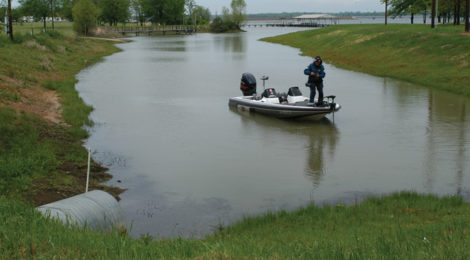 March and April are the best months to look for spawning bass on most Texas lakes.
Story and Photography by Matt Williams
Fishermen are among the world's greatest storytellers. Ask around and you will find that they all have a skeleton or two in the closet about the big ones that got away. As much as I like hearing the heartbreakers, I enjoy hearing tales about hard fought battles that culminate with a happy ending even more.
One of the best big bass stories I've ever heard belongs to Mark Mowery.
Mowery is a 59-year-old retired firefighter from Longview who takes his bass fishing pretty seriously. He like likes to catch 'em anyway he can, but sight fishing ranks near the top of the list when it comes to fun fishing.
Sight fishing is a popular technique that involves targeting fish that you can visually see in shallow water. It is most effective when bass are locked onto spawning beds in the springtime.
Bedding fish tend to be extremely protective of their nests and will often times pounce on anything that is perceived as a potential threat. Sight fishermen attempt to spur the aggression by tossing jigs and plastics onto spawning beds to make the bass think a salamander, perch or some other critter is plotting to steal its eggs.
Mowery was sight fishing at Brandy Branch Reservoir back in 1994 when he spotted a circular opening in a matted hydrilla bed in about eight feet of water. Thinking there might be a spawning bed there, he quietly inched his bass boat to the edge of the hole so he could peep over the edge and see the bottom in the gin-clear water.