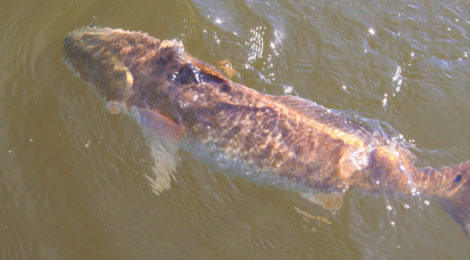 Located on the Texas/Louisiana border, many consider this as the best estuary for catching redfish.
Story and Photography By Robert Sloan
For about five decades Harry Clark had Sabine Lake's redfish figured out. He'd launch his flat-bottom boat down the road from the four way stop in the tiny town of Sabine and motor out to the jetties. He'd make a few shots with his cast net, box enough mullet to fish with and proceed to catch one red after another.
One day I idled by him, where he was anchored at the east jetty boat cut. He was hooting and hollering beneath his signature white pith helmet and held up a stringer of reds. Later that evening I called Harry and asked him how he always caught so many reds. He was in his mid-70's at the time, and that was well over a decade ago.
"Well that's a no brainer," he said, laughing out loud. "The reds want fresh dead mullet. I've got that. They feed in a current. I've got that. And sooner or later they are going to show up at the boat cut. That's a fact. And more often than not I'll be there reeling them in. Some folks retire and do nothing. I retired and went to fishing like there was no tomorrow."
It's also a fact that Sabine Lake, Sabine Pass and the Sabine jetties produce some of the best fishing for reds on the Texas Gulf coast. Even though it's called a lake, it's actually a bay that is a perfect set up for holding more redfish than you can shake a stick at. The Neches and Sabine rivers feed in to the lake on the upper end. From there the lake feeds into Sabine Pass and funnels out through the jetties and into the Gulf of Mexico.
I've been fishing there for about 30 years and can say for sure that it's the BEST place to catch redfish that I have ever seen. This body of water is set up on the Texas/Louisiana border. A Texas fishing license is reciprocal on most areas of the lake.