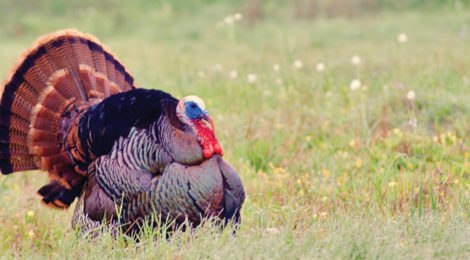 Understanding the birds' breeding habits and other traits will result in spring hunting success.
Story and Photography by Nate Skinner
Turkeys are an addictive creature to hunt. They can provide exhilarating experiences in the field or become the source of a hunter's immense frustration.
With a keen sense of hearing and out-of-this-world eyesight, gobblers give a whole new meaning to the word "arduous." If they had any sense of smell, harvesting a boss bird would be almost out of the question. Simply chasing them takes dedication and hard work.
Despite these odds, most spring turkey hunting fanatics know exactly what they're up against. Many hours in the field may fall between the few short moments in which close encounters with a mature Tom occurs.
When primo hunting strategies are applied, the time between unforgettable harvests can be significantly shortened. Then nothing but solid memories await.
Preseason scouting is an excellent way to ensure success in the field this spring, especially early on in the season. According to the Texas Parks and Wildlife Department's Turkey Program Leader, Jason Hardin, the spring seasons for Rio Grande Turkey in the north and south zones open about two weeks prior to the peak breeding period.