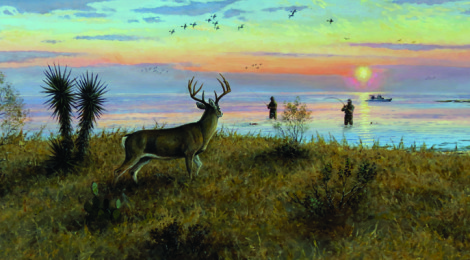 David Drinkard provides the perfect scene for this month's cover art that captures all of the outdoor opportunities available during the first month of the year in the Lone Star State.  Entitled "King Ranch Shoreline" a solid whitetail buck is drawn to the water's edge to observe two anglers wadefishing for trout and redfish.  In the colorful sky, so prominent during the cooler months of the year, ducks are winging their way from roost areas to those they feed.
Plus the fact this painting represents a different perspective of one of Texas' most famous ranches and whose shoreline has been fished by countless numbers of anglers makes this a special image.  "King Ranch Shoreline" is about as Texas as one can get, particularly to start a New Year.
For more information on "King Ranch Shoreline" and other works of art by David Drinkard visit www.daviddrinkardart.com, or call (409) 753-1367.