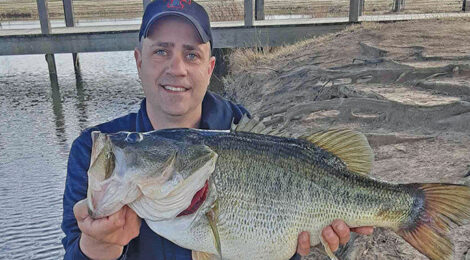 Some anglers are still unaware of valuable prizes available in year-end drawings.
Story and photography by Matt Williams
Texas Parks and Wildlife's 2022 Toyota ShareLunker program kicked off its 36th season on January 1. Here's hoping it's a banner year with lots of fat girls turned over during the January 1 – March 31 spawning window. Program brass say it would be nice to see a noticeable uptick in interest among anglers who catch smaller fish that qualify, as well.
Just so you know, anglers who properly document qualifying fish (8 pounds or 24 inches in length) between now and midnight on December 31 can enter their catches in the big bass program and become eligible to win some valuable prizes.
Each entry earns anglers one chance in a random drawing for a $5,000 shopping spree to Bass Pro Shops and an annual fishing license. Every confirmed entry also receives a commemorative "Catch Kit" that includes a weight decal and other ShareLunker memorabilia.
It's been that way since the program underwent a major facelift five years ago. To wit:
For decades, ShareLunker entries were limited to 13 pound-plus fish used for spawning and genetics research. In 2018, additional categories were added for smaller fish. The idea was to boost angler participation while providing fisheries scientists with valuable data to help them learn more about statewide big bass distribution.
The voluntary program's lowest level category is called "Lunker Class." It is open for bass as small as eight pounds or 24 inches in length.
The next category up the ladder is for fish weighing between 10 and 12.99 pounds. It's called the "Lunker Elite."
There are now two categories for fish weighing upwards of 13 pounds — "Lunker Legend" and "Lunker Legacy".
Lunker Legend is for fish caught outside the January 1 – March 31 spawning window, or fish caught inside the spawning window by an angler who for some reason declines to loan the fish to the state for spawning.
************************************************************************
To read more, click here to SUBSCRIBE