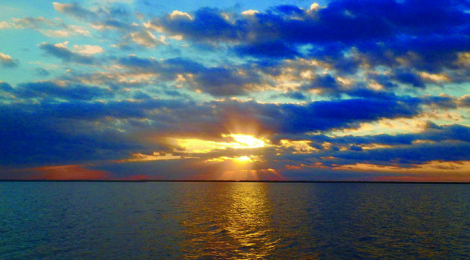 The marshes and back lakes near the San Bernard River are teeming with redfish, trout and flounder that see very little fishing pressure plus there's public waterfowl hunting too.
Story and Photography by Nate Skinner
The sun peeked through the clouds, as quacks from gadwalls and mottled ducks in the marsh rode on a light easterly breeze. The mild weather was a pleasant change and it just felt good to put on a light jacket with the cooler temperatures. For some reason fall mornings have always seemed to hold something special in my opinion. The sunrises are more brilliant, the air feels crisper and more welcoming, plus all things outdoors are in a rapid preparation mode for the approaching winter months.
This particular morning held true and did not disappoint. Schools of redfish were feasting on shrimp and mullet all over the marsh and it was the kind of day where a topwater plug stayed tied to the end of my braided line for the duration of the fishing trip.
"Power pole down," was the name of the game as Captain Kendal Kersh and I casted to numerous frenzies of redfish inside Cowtrap Lake, the Cedar Lakes and other marsh areas in and around the San Bernard Wildlife Refuge and the Intracoastal Waterway near the San Bernard River.
This area sports acres of shallow water back lakes and marshes that receive very little fishing pressure. During the summer months, moderate to high tides fill these lakes and tidal marshes full of salty water along with bait fish and crustaceans, flooding the salt grasses and giving redfish tons of water to spread out and roam for forage in hard to reach, remote areas.