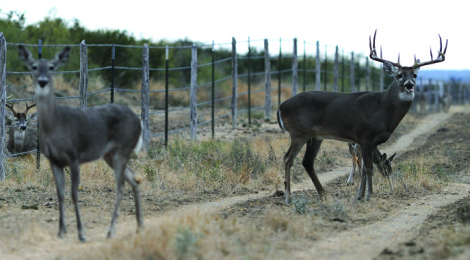 Hunters must spend their time more efficiently during the late season if they hope to see an exceptional buck.
Story and Photography by Bob Zaiglin
Long before daylight on a cloudy, cold still morning in January, a hunter negotiated his way over a mosaic of senderos to his favorite hunting position. As he nears the blind, he flicks a switch on the corn slinger attached to his truck and virtually inundates the semi vegetated sendero with golden kernels. After parking his truck in the brush, he walks back to his blind in the darkness so as not to disturb the deer that normally rush in to engulf the palatable source of energy. Oftentimes, he could hear the distinct crunching sound of deer chewing on the corn before he could see them, but this particular morning the silence was deafening.
From his elevated position, the hunter stared at a predawn figure that looked like a deer, only to discover that it was a guayacan bush shaped like one. As the sun peeked out on the mesquite-lined horizon, a doe appeared at the edge of the blackbrush-lined sendero. The animal paused for only a few seconds before entering the opening to feed.
Suddenly, a young buck appeared and the hunter anticipated seeing a mature buck by scanning the various openings in the ocean of brush. But if he didn't know better, it appeared as though the area was void of deer. Remaining in the blind until mid-morning, outside of a covey of quail and several garrulous green jays, only two deer showed when he averaged 12 deer observations every time he sat there in December.
Later that evening, the hunter returned to the same blind. With the dark clouds of morning gone, the sun gilded the earth's surface, escalating temperatures to that of a cool spring day. Not long after distributing some corn, the hunter had to rush into the blind as deer began to appear lapping up the golden kernels. Throughout the sunny evening, deer continually visited the sendero with several nice bucks making an appearance, but nothing supporting the desired headgear.
Hunting in the latter part of the hunting season requires patience as those once hyperactive bucks become reticent, moving as little as possible. But they must satisfy their nutritional requirements forcing them to move some and more importantly remain searching for does that have not conceived and are about to recycle. Thus hunters must spend their time more efficiently if they hope to see an exceptional buck.