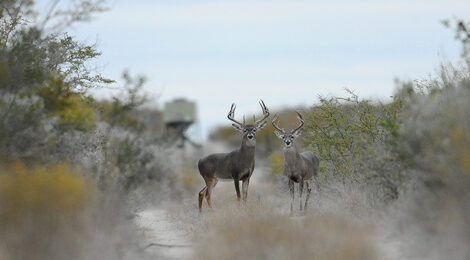 Addressing the many problems deer face and how management-oriented hunters can assist begins with the habitat and number of animals.
Story and photography by Bob Zaiglin
As Texans usher in another deer hunting season, nearly three quarters of a million hunters will enter the great outdoors with family and friends hoping to enjoy some cooler weather and harvesting a deer.  This past spring and early summer has been hot and dangerously dry.  The ramifications of such conditions have had negative impacts on all wildlife, particularly deer, which will become evident during this hunting season and years to come.  The debilitating drought was alleviated somewhat by record-setting rains in August, which should have saved some fawns, but arrived too late to benefit antler size.
The absence of rainfall and excessive temperatures perpetuated a decline in plant regeneration throughout the antler-growing period, eroding away inches of antler on young bucks that showed promise last season.  With record-shattering heat at or above the 100 degree mark, fawns were subject to an inhospitable environment, lacking life-saving shade from the intense sun and even less protective cover in the form of weeds and grass to evade their nemesis, the coyote.
************************************************************************
To read more, click here to SUBSCRIBE