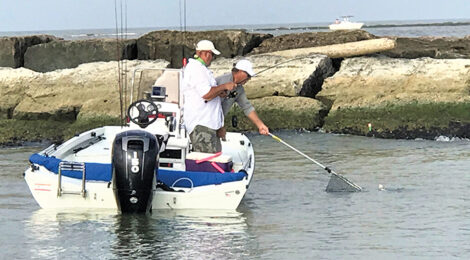 Sabine and Keith Lake, the jetties, working birds plus hungry specks and reds offering a little bit of everything.
Story and photography by Robert Sloan
You won't find a better place to fish in September and on into October than Sabine Lake, plus its neighbor Keith Lake — all located in Southeast Texas on the Texas/Louisiana border.
On the menu at Sabine Lake in the month that summer ends and fall begins is some fantastic topwater fishing for both trout and reds under the birds. If that's not what you like to do head to the Sabine jetties and fish the boat cuts for bull reds with fresh cut mullet on bottom. Or get on the trolling motor and move up and down the rocks while fishing small crankbaits and soft plastic jigs.
Then there is always Lighthouse Cove in Sabine Pass. This place is located just off the ship channel and covers about 100 acres of prime flats that are littered with oyster shell reefs that in turn attract big time numbers of trout and reds. The water depth is anywhere from one to five feet deep in the cove and is ideal for chunking topwater plugs. Be wary of the reefs when you enter the cove. Always idle, never go in on a plane.
If that doesn't wag your tail put in at nearby Keith Lake and head out for some sight casting to waking reds feeding along the shoreline. This body of water is miles long and offers many backwater lakes to fish. If you've had enough of fishing go crabbing. Keith Lake is loaded with big and tasty blue crabs.
I've been fishing on both Sabine and Keith lakes for over 30 years and the angling action you'll find is unsurpassed, especially as we move into the fall months. Sabine Lake has some of the best fishing under the birds that you'll ever find.
************************************************************************
To read more, click here to SUBSCRIBE