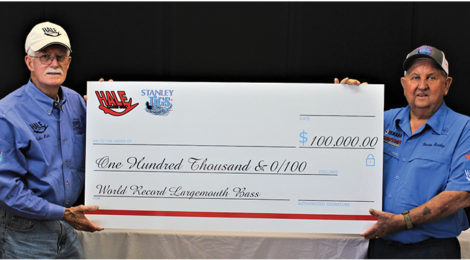 Just about anything is possible when it comes to casting for bass cash.
Story and Photography by Matt Williams
Fishermen who cast for cash are among the world's biggest dreamers. Though it doesn't hurt to dream big, it is never a good idea to go counting your prize money in any sort of fishing competition before you reel in the winning catch.
Fish and fishing are way too unpredictable to bet the farm on. While there are pots of gold to be found at end of watery rainbow, I've seen more than one tournament angler go broke gambling on the hope of finally reeling one in.
The folks at Hale Lures/Stanley Jigs aren't in the business of running high stakes fishing tournaments, but they kicked off the New Year with a risk free promotional pitch aimed at getting bass anglers of all calibers to dream super big and buy a few baits in the process.
It's called the The $100,000 Largemouth Bass Bounty.
The Huntington Texas-based lure company is offering the six-figure pay day to the pre-registered angler who reels in a largemouth bass with an official certified weight of 22 pounds, 6 ounces or more. The fish must be caught from U.S. public waters during 2019 using a Hale or Stanley bait.
It's a good thing the promotion is free to enter at fishstanley.com. Otherwise, it probably wouldn't get many bites. Not from Texas anglers, anyway.
Texas' current state record of 18.18 pounds has been in place since January 1992. In 27 years of trying no one has come remotely close to breaking it.
Catching a fish big enough to claim the $100,000 bounty is a really tall order to anyone to fill, even out California way where some of world's heaviest lunkers have been caught over the years.