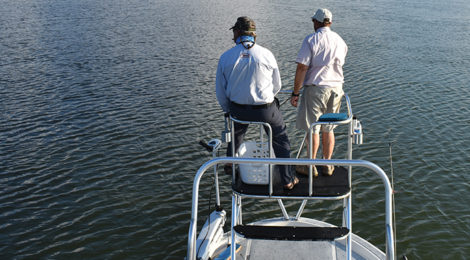 Warming water temperatures and clear water provide opportunities to hookup with redfish.
Story and Photography by Robert Sloan
"See that mangrove bush up there right off that point," said Victor Randazzo. "Look just to the left and you'll see three reds slowly moving through the flooded grass."
He was on the polling platform on the stern of his flats boat. We were floating in about eight inches of gin clear water on Pringle Lake, located along Matagorda Island just south of the very popular Army Hole. He turned the boat slightly to the left to put the sun at my back, and then I could easily see the trio of reds.
I was rigged up with an ultra-light spinning reel spooled with 14-pound test braid connected to a six foot section of fluorocarbon leader connected to a 3-1/2-inch-long Yum Money Minnow in white with a chartreuse back. It was the perfect imitation of a finger mullet, a baitfish that reds dine on daily.
"Hit that little pocket of water about four feet to the left," he instructed.
I flipped the bail open on the reel and made a sidearm cast. It hit the water's surface and was immediately pounced on by one of the reds. It was a 24-inch slot fish that took off like a bat out of hell. That was a classic day of fishing. We had plenty of sunlight, clear water and enough reds to keep us in the action for several hours.
Sight casting to redfish is the cat's meow when it comes to shallow water fishing along the Texas coast. From West Matagorda Bay on the middle Texas coast and on down to the Texas/Mexico border is where you'll find miles upon miles of crystal-clear shallow flats and surf.
Last spring I was with a couple of friends. We headed out of Port O'Connor and parked the boat at Sunday Beach at what is known as the J-Hook. We made the short hike across Matagorda Island and found what we were looking for – a dead calm surf with clear, green water up to the white sand. To make things even better we caught limits of reds in the first gut. All came on copper or gold 1/8-ounce spoons.