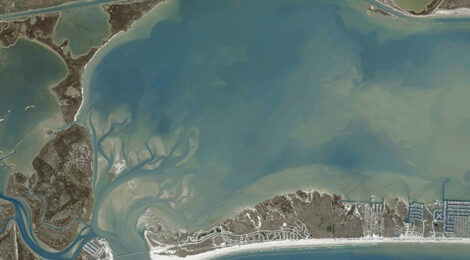 The fishing options in behind Galveston Island are favorite diverse fishing destinations for anglers in the know.
Story and photography by Robert Sloan
At dawn I could tell things were going to get good in a hurry on West Galveston Bay. We had a slight breeze out of the southeast, the water was clam and trout green. Mullet were jumping all over the place, and as I eased over the side of the old Mako my feet landed on shell and six inches of mud.
"Man, this is all good," said Todd Morris, as he wound up to make the first cast of the morning. "I can almost smell the fish."
He had tied on a soft plastic Assassin in red and white. Anticipating a topwater bite I had knotted on a Super Spook Jr. to the Fluorocarbon leader. That's one of the most fished topwater plugs of all time and the color pattern of chrome and blue is a trout magnet.
Oddly, we didn't get a bite for about the first 45 minutes. Then as we approached a major feeding time, I got the first blow up. For the next couple of hours the two of us strung solid trout with three reds mixed in. Once again West Bay had not disappointed us. In fact, that early summer morning was just about as fine as fishing gets along the upper Texas coast.
We had put in at a boat ramp off the causeway bridge and made a short run to one of the coves off Mentzell Bayou. That's an area with a little bit of shell and mud mixed with a hard sand bottom. One of the more unique things West Bay is that the south shoreline has lots of coves. Some have a hard sand bottom and some have mud that'll suck your boots off. You never know which cove will be hot one day and not hold a fish the next.
************************************************************************
To read more, click here to SUBSCRIBE