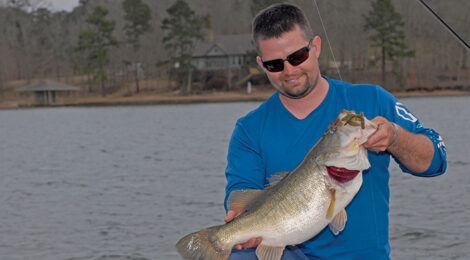 Useful Pro's Pointers for anyone that wants to become a better bass angler.
Story and photography by Matt Williams
We'd all like to be able to flip a jig like a Denny Brauer and catch bass with the consistency of a Jacob Wheeler or Kevin VanDam but the hard truth is that most anglers will never come close.
Successful bass pros are successful for a wealth of reasons. There is much more to being a good bass fisherman than being able to handle a baitcaster proficiently and knowing how to tie a Palomar knot or walk the dog with a Zara Spook.
Here are some useful tips for anyone wanting to become a better bass angler. There is no guarantee the advice will make you pro fishing's next super star, but it is sure help an average or beginning angler step-up their game:
1.) Find Cover and Find Bass: Bass are predators. They rely on cover to hide from shad, bluegills, minnows and other prey, especially in shallow water. Fishing around cover increases odds of encountering bass.
The amount and type of available cover can vary from one lake to the next. Flooded bushes, hay grass, lily pads, boat docks, stumps and lay down logs are all good places for a bass to hide from unsuspecting forage. Often times the best shallow cover will be found in relation to a point, hump or channel swing that offers easy access to deeper water.
2.) Use Good Gear: You typically get what you pay for with fishing gear, particularly when it comes to rods, reels, terminal tackle and rain gear. There is no need to feel like you need best of everything, but it's always a good idea to buy the best fishing gear you can afford.
3.) Line Logic:  There are three primary types of fishing line used in bass fishing — monofilament, fluorocarbon and braid.
************************************************************************
To read more, click here to SUBSCRIBE