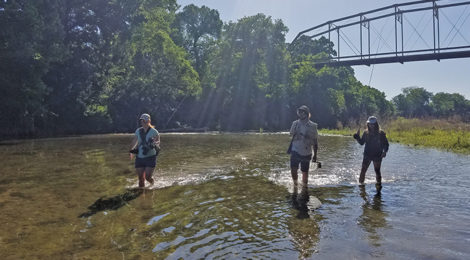 A sneak-peak at the abundant but underutilized opportunities on tranquil, secluded waters.
Story and photography by Aaron Reed
You could, if you really wanted to grind it out, wade more than seven times around the equator without leaving a Texas stream and without looking at the same water twice. The state's 3,700 named streams and 15 major rivers flow some 191,000 miles and cover about 1.1 million acres of public land – about the same amount as in Texas' state parks and wildlife management areas combined.
The toughest decision an inland angler has to make is: which river or creek today?
Central Texas is especially blessed, with 20 or more streams within about an hour of downtown Austin. Most are only lightly used by anglers.
Brushy Creek, a 69-mile-long tributary of the Brazos River, rises in springs in far western Williamson County near Cedar Park and burbles through Round Rock and Hutto before carving a path across the blackland prairie.
Conveniently for Dr. Brad Boone, there are a handful of access points within about 10 minutes of St. David's Round Rock Medical Center, where he works as a vascular surgeon.
On an early spring Wednesday before work, he met-up with Chris Johnson, owner of Living Waters Fly Fishing in Round Rock.
School on the stream
"I put my coffee on the round rock in the middle of a trico hatch, and we had redbreast sunfish rising like cutthroat trout on a western stream," he recalled. "On a hundred-yard stretch of creek we were fishing dry flies to redbreast, we saw a trophy Rio Grande cichlid right next to redfish-sized carp, and a little later and just 75 yards upstream we were casting to bass in crystal clear water."
Brushy, Boone says, is a complete flyfishing clinic.
************************************************************************
To read more, click here to SUBSCRIBE