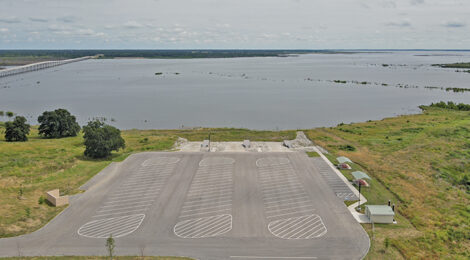 Texas Parks & Wildlife Department's lake officials says new lake is filling slowly but still no projection on opening date.
Story and photography by Matt Williams
Like most Texans, Dan Bennett of Pottsboro has spent most of the summer praying for rain. With oppressive heat bearing down in mid-July and much of the state locked in the grip of a bad drought, Texas Parks and Wildlife Department's district fisheries biologist and others with close ties to Bois 'd Arc Lake in Fannin County were doing a rain dance in hopes of getting some significant moisture.
Plenty could have happened since then. But I'll go out on a limb and make the bet things are still on the dry side.
Bois 'd Arc is Texas' newest freshwater reservoir. It's the first major impoundment built statewide since 19,000 acre Lake O.H. Ivie opened to the public in 1990.
The North Texas Municipal Water District broke ground on construction of the 16,650 acre water supply reservoir in May 2018. The dam began capturing inflow from Bois 'd Arc Creek and other tributaries in April 2021.
As of July 8, the 13 mile long reservoir had filled to about 39.6 percent of its full capacity with a mean water level of 516.22. The last significant rise occurred this spring, when the level jumped about seven feet.
"Right now it is about 17 1/2 feet from being full (534.00)," Bennett said in mid-July. "It's still got a long way to go. We had hoped to see it closer to full by now and hopefully open up in September ahead of the early teal season."
So much for the wishful thinking, says Bennett.
"Things turned off dry," he said. "We need some of those big, five to six inch downpours. That would start some run off and bring it up in a hurry."
************************************************************************
To read more, click here to SUBSCRIBE