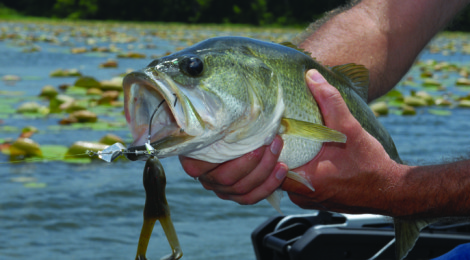 Anglers contend with a variety of changing factors as summer begins to transition to fall.
Story and Photography by Matt Williams
It's September in Texas. But don't break out the hoodies and other cool weather duds just yet, bass busters. Summer is still with us, and that means water temperatures will likely continue to soar into the 90s on many lakes before more favorable weather finally comes rolling our way during the months ahead.
Fall, which officially gets underway on Sept. 23 this year, is the harbinger of much welcomed cool fronts. The fronts usually start out mild and gradually increase with frequency and intensity as winter approaches.This factor, coupled with shorter days and longer nights brought about as the earth rotates on its axis causes a gradual decrease in water temperatures on lakes across Texas.The changes always bring out the mean streak in Micropterus salmoides and likewise makes them more willing to play when they detect something that looks to be an easy meal racing through the water column.Some experts believe it's a feel good thing. Others contend the aggressive behavior occurs because the fish can sense the changing seasons. With winter just around the corner, they say fall triggers bass to gorge themselves to stack on a little extra body fat before the colder and nastier weather of winter arrives.
That's all encouraging stuff to think about. But until it happens, Texas bassers will face what some anglers consider to be some of the toughest, most brutal conditions of the year."September can be a pretty tough time, especially on a lot of the East Texas lakes," says Longview bass pro Jim Tutt. "The fishing can be really good up north this time of year, but it's the tail end of summer in Texas and the weather is still going to be really hot in most places with not much happening to trigger a change."Toledo Bend fishing guide Stephen Johnston agreed with that assessment.