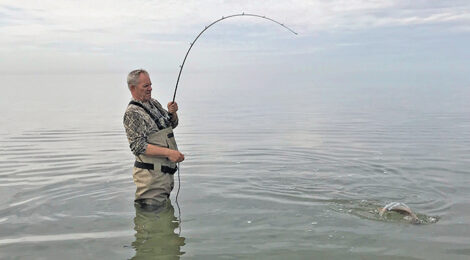 Never underestimate the power of a topwater lure when it comes to catching big redfish.
Story and photography by Robert Sloan
With warming spring tides and trout green currents moving baitfish into our many bays and back water estuary lakes you know it's time to tie on a favorite topwater lure and get out on the water.
Some of my favorite places to fish along the entire Texas Gulf coast are the clear water lagoons that you can find at Port O'Connor. That's where the depth is one to two feet deep, there is lots of aquatic vegetation, plenty of mullet and tons of crabs. All that adds up to some fantastic spot and stalk fishing for reds, many of which are in the slot at 20 to 28 inches in length.
My most recent trip to a favorite lagoon was just south of POC. I was fishing with a long-time fishing buddy aboard his Mitzi skiff that will easily float in a foot of water. When one of us is on the polling platform you can pretty much see a little bit of everything, especially roaming reds looking to pounce on something to eat.
"There's one right there," he said, while lining the boat up so I could launch the D.O.A. P-T 7. That's a stubby cigar-shaped soft plastic topwater lure with a single 7/0 hook, that's rigged up like a bass fishing worm, except the tip of the hook is aligned with the top of the lure. It's definitely the most weedless lure I've ever fished with anywhere on earth. And, by the way, I've fished this lure on the grass beds of Toledo Bend and Sam Rayburn and it's a bass killer, especially at night under a full moon.
I made the long cast and sputtered the PT-7 right up to the red Randazzo has spotted. As the lure went past the solid red it caught his attention and whipped around and blew up on it like there was no tomorrow. We were fishing an area that was full of matted weeds and would never have caught that big red with a treble hooked topwater.
************************************************************************
To read more, click here to SUBSCRIBE