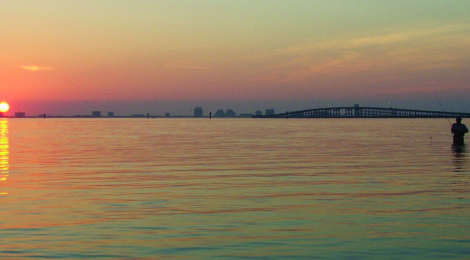 Finding the comfort zone where fish hold during different periods of the day will result in angling success.
Story and photography by Danno Wise
Let's face it. Texas' summer heat affects us all. In August the air is hotter and the sun is brighter. When the sun is high and the heat index is spiraling upwards, we all begin to feel a little lazy, move a little slower and start looking for somewhere to cool off.
Fish are no different. In fact, August is one time when fishermen don't need to think like a fish, they just need to think like themselves. When are they likely to be most active? Where do they want to be in the middle of the day when the sun is high and the temperature is scorching?
Basically, by answering these questions to suit their own needs, anglers can virtually ensure angling success during August.
Fish, like fishermen, are lethargic during the warmest portions of a summer day. So, for anglers to find active fish, they need to find fish that are in their comfort zone as August temperatures soar. Depending upon the time of day and conditions there are a few likely comfort areas where fish will congregate.
Shallow Flats – Think of shallow flats like you would your backyard. When, during August, are you most likely to cut the lawn? Most of us would prefer to do any outdoor to-dos during the cooler morning and evening hours. Fishing the flats is much the same way — fish will still be shallow but only when they are comfortable, typically during the cooler morning and evening hours. But, during the time they are on the flats, they are usually fairly aggressive.
Given the fact the fish will vacate the flats as soon as the water begins to warm, anglers should key on flats close to deep water. Unlike spring and fall, when fish will travel great distances in knee-deep water, summer sees most fish holding close to the relatively cooler deeper water so they can quickly transition given the rapidity with which the water warms during summer. As a result, most shallow water activity will be concentrated within a few hundred yards of a channel or deep flat.
Shaded Water – What is more quintessential summer than a hammock hanging under a shade tree? Just as people employ shade to keep cool during the heat of summer, so do a variety of fish species. Therefore, any type of structure that provides shade holds the potential to hold fish during summer.
Docks and bridges are obvious examples. In deeper water areas, platforms holding range markers or gas wells can also serve as fish magnets. The closer the structure is to the water's surface, the more cooling shade it will provide to the water directly beneath it and the more fish it will attract. These areas are particularly productive during the middle of the day when temperatures are at their peak.