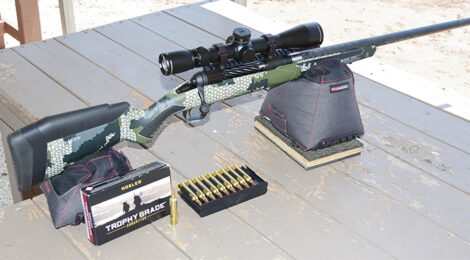 Story and photography by Bill L. Olson
Why do hunters need or want a new rifle?  The answers are as varied as the calibers and rifle designs available.  For me it was a bit of research curiosity, a dab of nostalgia and a desire to fill a void in my hunting arsenal.
Owning a number of quality production and custom long guns I didn't really need another resident in my gun safe.  What was there has, and could continue to cover all of my hunting forays regardless of the size game. 
However, for several years I have been curious as to who made the most accurate, out-of-the-box production rifle. There was also a desire to fill-in a slightly perceived void in my collection of a long-range, hard-hitting caliber.
My fact and logic research began casually a few years ago based on discussions with some of the most respected custom gun makers and gunsmiths in the business.  The primary individuals queried have seen and worked on just about ever rifle made.  I was confident when questioned they would provide a fact-based response since as custom rifle makers they really did not have any "skin" in this research.
For years my go-to guy has remained Kerry O'Day, owner of M-G Arms in Spring Texas (www.mgarmsinc.com) who along with his wife, Carol founded in 1980.  His expertise has always been an in-depth, reliable source and is the reason he has been TOJ's Shooting Editor for decades. Kerry is a devoted and innovative gunsmith who honed his craft by training with two of the great master gunsmiths — P. O. Ackley and Ron Freshour.
When asked "whose best," O'Day rattled off several recognized quality manufacturers as potential candidates.  When pressed to name just one he said, "Savage."
Another long time source of information is Bill Wiseman, owner of Bill Wiseman & Co. Inc. in Bryan Texas (www.wisemanballistics.com).  His website explains the former Master Sergeant was one of the top armors and gunsmith in the Marine Corps until he retired in 1980.  "He is credited with numerous rifle, pistol, shotgun innovations and improvements still used throughout the military today.  One of his most rewarding ongoing assignments was to serve as the chief gunsmith in support of the USA shooting teams for a period of 10 years that led to the World Championship from the Olympic and Pan-American games."
Each year Wiseman and I catch up at the annual Texas Hunter and Sportsman's Expo held the past 31 years in late July in McAllen.  Our exhibitor booths are usually next to each other and a few years back I posed the same question.  Without hesitation he responded, "Savage."
I then factored in Savage's features explained on their website (www.savagearms.com) into my own experience-based evaluation.  Features like AccuFit, an innovative stock system that lets the shooter adjust the length of pull and comb height.  The system uses an exclusive combination of interchangeable comb risers and length-of-pull inserts to create a custom fit for any shooter.  Standing 6' 6" tall with a 40 inch sleeve length this is an important feature for me or shooters of any stature.
Savage's AccuTrigger, a system that is easily adjustable by the shooter, offers a light, clean pull with no creep, and prevents the firearm from discharging if jarred or dropped.  Plus AccuStock, the rigid aluminum rail system that is firmly embedded in the stock throughout the fore-end of select Savage rifles. Rather than uni-directionally engaging the action at one or two points, the AccuStock™ engages it three-dimensionally along its entire length.
Then there is a bit of nostalgia when it comes to the Savage name.  In my progression as a young shooter/hunter, when I stepped up to fire a centerfire rifle my Dad's Savage Model 99 lever action .300 Savage was the first rifle from which my shoulder felt recoil.  Dad loved that rifle and though I never hunted with it, the Savage name and reputation has long been imprinted in my mind.
Then there is the desired caliber for this new hunting rifle.  I had my Remington 700 BDL .30-06 as my all around rifle for whitetail, mule deer, pronghorn antelope, bear and even elk.  Stepping up on the top end is a Winchester Model 70 Sporter chambered in .338 Winchester Magnum.  This caliber has been responsible for the quick, reliable harvest of elk, moose and nilgai.
For years there has been a "bit of a void" in the 7mm Remington Magnum and .300 Winchester Magnum caliber range.  Much of the intrigue of "bigger is better" was brought about years ago when south Texas whitetail deer hunters wanted a caliber to reach out, down long senderos, to take huge trophy quality brush country bucks.  These two calibers were popular first choices.
In recent years the 6.5 Creedmoor has garnered much praise and print from gun and outdoor writers.  As a short action caliber my opinion has been many short action calibers are good as they are designed, for short action rifles.  However, whatever a short action cartridge can deliver a long action caliber can deliver even more.
Once again O'Day and I started talking about a caliber for the Savage that could ballisticaly and accuracy trump the 6.5 Creedmoor, 7mm Remington Magnum or .300 Winchester Magnum.  The .28 Nosler would also fill the perceived void in this caliber range.  O'Day suggested the .28 Nosler was "like a 7mm on steroids."
While somewhat intrigued with long range shooting and how it can improve one's shooting at most effective hunting ranges, many know I am not a long range hunter.  Instead I like to call game in close or stalk to within a range I am confident in my ability.  For me this comfort level begins to diminish as the target reaches 400 yards and beyond. 
Besides what I can do personally, there are also performance levels in the rifle caliber to consider.  Back-in-the-day the acceptable minimum energy level to take deer-sized game was 1,000 foot-pounds and for elk 1,500 foot-pounds of energy. 
A little over two years ago my search for a Savage Model 110 Ultralight chambered in .28 Nosler began.  My procrastination and lack of haste created a dilemma when the "pan-damn-demic" arrived and started messing up availability of materials, parts, inventory and shipping for manufactures.  Needless to say my acquisition of this rifle was delayed for well over a year and a half.
In January, at the 2022 Dallas Safari Club Convention and Expo, I met Bill Scaplen of Jones and Company, the Texas sales representative for Savage Arms.  I explained my plight and he confirmed available rifle inventory was currently in the hands of Savage retailers.  He searched Texas retailers and said Carroll's Gun Shop in Wharton Texas (www.carrollsgunshop.com) had this rifle model in stock chambered in a .28 Nosler.
Procrastinate no more — I immediately reached out to John Herlitz owner of this fine gun store who confirmed he had this Savage model and caliber.  Immediately I set up an appointment and made the short drive southwest of Houston to Wharton where the store has been since 1960. 
While there I became reacquainted with this amazing shooting retail location and knowledgeable staff.  I commented Carroll's Gun Shop has always represented what a well-stocked store, located in a smaller market offers its customers, and today that reputation is growing.  Besides their "local" clientele Carroll's also has a growing customer base of shooters and hunters across Texas and the country.
I called to thank Bill Scaplen for his assistance when he asked, "Do you have any .28 Nosler ammunition?"  I said, Carroll's had one box of Nosler ammunition I picked up and was looking for more.
The search continued for ammunition when I found out from Pat Mundy with Nosler they were doing a production run of .28 Nosler in mid-May.  I placed an order and waited for their .28 Nosler Trophy Grade Long Range Ammunition 175 grain ABLR to arrive.  The ballistic information for this Nosler's factory load accompanies this column and shows a muzzle velocity of 3,125 feet per second with a down-range Energy of 1,597 foot-pounds at 800 yards.  That'll do.
The last component to this package was the optics.  A lightweight rifle certainly needs a high quality, lightweight scope.  Vortex Razor HD LHT 3x15x50 became a perfect fit (www.vortex.com).  I went with the 3-power version because of my hunting style and wider field of view. 
Also the available reticle was MRAD instead of MOA.  However, Vortex helpful YouTube support video confirmed many of my beliefs in the difference.  It also provided confidence in the easiest and best way to make the subtle adjustments.  I like it when manufacturers keep it simple.
Like a kid with an unassembled bike I headed to M-G Arms, walked in the front door, saw Kerry and said, "Please?"  He laughed, nodded his head and started fitting the rifle to my frame.  The adjustment of the cheek-piece plus length of pull provided the fit I had hoped.  He checked the trigger break, mounted the Vortex scope and had the rifle cleaned of any packing grease/oil prior to me heading to the range.
The rifle was going to be sighted in at Ryan Gardner's 24 Outfitters (24outfitters.com) who has, and continues to develop, a long range shooting facility and hunting destination in Winters, just south of Abilene Texas.  Also offer is seasonal dove hunting over sunflower fields, duck hunting, spring turkey hunting and this upcoming fall season specialty hunts for the abundant sandhill cranes that winter in the area.  This is a comfortable, relaxing place to unwind, catch some bass from their stocked lake and just escape the craziness of the world today.  The accommodations are comfortable and the home-cooked country style food is excellent. 
Armed with my ammunition order that arrived from Nosler it was time to see what this rifle and I could do.  With distanced to 1,200 yards and comfortable covered benches the sight-in did not take long in the 107 degree heat and fickle winds in late June.
TOJ's Hunting Editor Tom Claycomb III was with me on this week-long fact-finding expedition and wild hog hunt.  Claycomb and 24 Outfitters' manager John Joeris spotted my shots as the crosshairs were brought to a zero at 200 yards.  That put the point of impact an inch and a quarter high at 100 yards.  The photo of my target tells the story of the last three shots of the rifle, scope and ammunition package's performance and confirmed this "old guy" can still shoot. 
From the bench the rifle fit was comfortable and felt-recoil no worse than my .338 Win. Mag.  The trigger break was extremely crisp and the clarity of the Vortex provided a great sight picture.  When the session was complete the scope's locking zero stop was engaged and both turrets aligned for ease of future in-field adjustments of range as needed.
Pat Mundy had instructed me to leave some ammunition available for Tom to see how he liked its performance.  Tom fell out laughing when he heard of Mundy's needling instruction to me, and then Claycomb coolly sent several rounds down range.  He too gave a thumbs up to the package's performance.
It took a while for everything to come together, but the good news is with persistence it did.  Post-pandemic product availability has caused many to become creative and do whatever it takes to adapt and overcome.  Through this exercise it is well worth that effort. 
As summer's heat begins to cool more range time at greater distance will allow me to better understand this package and my ability at greater distances.  In September I plan on a late rut, free-range axis hunt plus I think I found the rifle I'll take to Alberta on a mule deer hunt.  Actually the hunt opportunities with the Savage 110 Ultralight .28 Nosler is almost endless.  And from what I've seen, Nosler makes some phenomenal loads that result in accurate downrange consistency. 
It was worthy the wait.  Now more field-testing is in order with a few hunts thrown in.
************************************************************************
To read more articles like this, click here to SUBSCRIBE