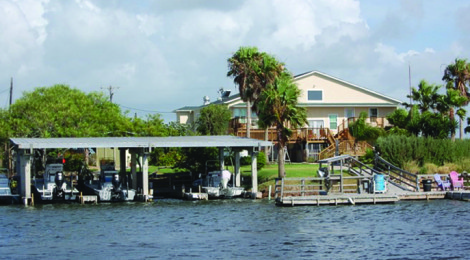 Get away to hunting and fishing adventures on the Laguna Madre
Story and Photography by Robert Sloan
At the end of the road on Highway 186 out of Raymondville, Texas you'll find a little slice of paradise in the middle of nowhere. It's called Getaway Adventures Lodge. This is a place that offers an absolute escape from the daily grind. It's a bit of a road trip to get there but well worth the effort.
It's where buddies can meet for two to three days of fishing and hunting in pampered comfort. The individual rooms are ice cold after a hot day of fishing, and the meals are out of this world. They have a grilled steak recipe that is off the charts good. And if you like enchiladas this is the place to taste the best in the West.
Mike Sutton is the new owner and operator of Getaway Adventures Lodge. After 15 years of making people feel at home, the founders of this South Texas adventure destination, Bruce and Shirley Shuler retired and moved to the Hill Country.
"Our goal is to provide first class hospitality and outdoors experience along with conservation of the unique fishery and environment of the lower Laguna Madre," says Sutton. "We continue to deliver unmatched hospitality with a down home Texas feel."
In the evenings you can kick back in a big and soft leather chair with an ice cold beverage. Another option, one of Sutton's favorites, is to sit out on the balcony with a cold drink, a good cigar and watch the sun set.
Adventure is the name of the game in life and if you like diversity in the world of angling this lodge has got you covered. There is fishing year round and beginning in September their famous cast and blast trips begin. You can fish in the morning and shoot doves in the afternoon. During duck season you can shoot early and fish late. Out the back door of the lodge is where you'll find a path leading past a swimming pool, a giant barbeque pit and on down to the boat house where the escape to fishing and hunting adventure begins each morning at daylight.
I've been visiting this lodge for close to 12 years. Over that time I've caught a variety of fish from speckled trout to red snapper. On one memorable day a group of us made an offshore run for red snapper. Along the way we spotted a shrimp boat and headed that way in hopes of chumming up a ling or two. I had tossed in a hand full of chum and in no time flat we had black fin tuna, dorado and kings all over the place in the cobalt blue water. And then like magic a sailfish appeared out of the depths and it was lit up like a bottle rocket.
I've fished all over the world and caught a variety of species from East Africa to South America. But I've never fished an offshore destination that offers such quick hit hookups with so many species. The crazy thing is that all those game fish can be caught from one to 10 miles off the beach.