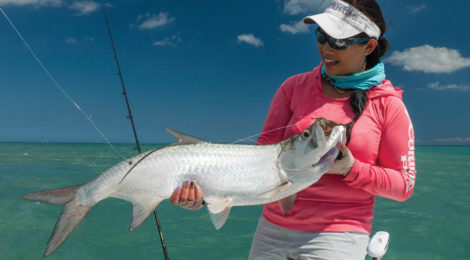 Texas boasts a rich history of successful female anglers.  Here are profiles of some of today's best.
Story and Photography By Danno Wise
Saltwater angling has become increasingly popular among women in recent years. Texas actually has a lengthy history of notable women anglers. Many of the early women on Texas fishing scene – lady anglers such as Judy Wong and Kathy Magers – were on the freshwater side. Others, like recently retired, long-time Coastal Bend guide Capt. Petra Schulz, plied their trade on the coast. So, it should come as no surprise that the impact of the recent surge in women anglers has been felt in the Lone Star State.
Most fishing industry observers would agree that today's professional female fishermen essentially break down into two groups – the social media "click bait chicks" and the legitimate professionals. Texas is lucky enough to be home to some of the leading members of the latter group. Here are just a few of the top flight female professional saltwater anglers, personalities and guides that call Texas home.
The Angler — Cindy Nguyen
Odds are you've seen Cindy Nguyen, even though you may not have realized it. As one of the faces of Columbia's Women's PFG clothing line, Nguyen's likeness is seen nation-wide in advertisements and promotional materials. And, while she does travel the globe fishing for fun and promotional shoots, this lifelong Houstonian is all about Texas saltwater fishing as well. But despite being one of the most recognizable women anglers in the country, Nguyen's career in the fishing industry was almost accidental.
"This was not something I ever planned on or could even dream about," said Nguyen. "Some days I still have to wonder if it's real."
READ MORE: continue article»