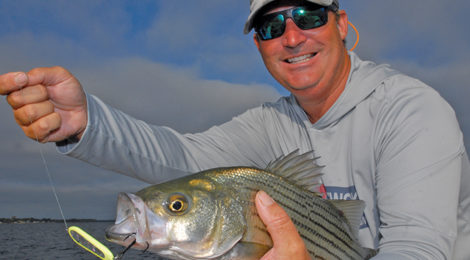 A lake for all seasons with multispecies options and record potential.
Story and Photography by Matt Williams
Michael and Teri Littlejohn are what I like to call fishing guides for the fishing man.
The husband/wife team have run a successful business on Lake Tawakoni for going on 10 years. Fittingly called Lake Tawakoni Guide Service, the operation is staffed by a small army of licensed guides who, like the Littlejohns, love to fish and live for the next bite.
The lifestyle is befitting of the environment. Their watery office is a multispecies all-star teeming with all sorts of hungry mouths to feed. And often times, the takers are whoppers. Some may outweigh the average third-grader.
As multispecies fisheries go, Tawakoni ranks among the best in the state. It packs a full house of finny options to accommodate everyone from trophy catfish junkies looking for one big bite to fun-loving fishermen more interested in getting their string stretched over and over by the pelagic titans that patrol its open waters in massive schools. It's no slouch when it comes to largemouth bass and crappie, either.
Located about an hour east of Dallas, and roughly four hours from Houston and Austin, the 38,000-acre reservoir has been a popular destination on the road map for Texas anglers for more than half a century.
Impounded in 1960, Tawakoni once ranked among the region's premier largemouth bass fisheries. The lake still produces its share of burly largemouths, as evidenced by a new lake record 14 pounder reeled in by Warren Sprague of Wills Point in May 2018. Over time, however, it has evolved into somewhat of a revolving door for recreational anglers lured there by the marauding bands of striped bass, hybrid stripers and white bass that make an easy living off the lake's abundant shad population.
The line-sided sport fish are plentiful, largely because the lake is on the receiving end of regular stockings of pure striped bass and hybrid bass reared in Texas Parks and Wildlife Department fish hatcheries.