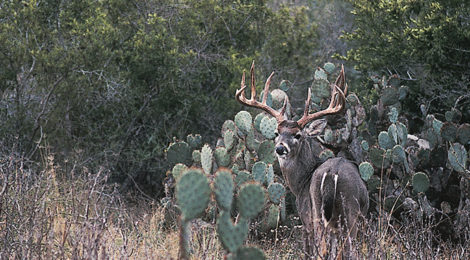 Bucks that are ready to rut and fired up by a sudden drop in temperature.

Story and Photography by Bob Zaiglin

Exiting my ranch house on a mid-December ink-black morning, a rush of cold air smacked me squarely in the face. Performing an about face, I reentered the house to put on a thermal shirt because I knew it would be a long, cold, but productive day, rattling up brush country bucks with my friend, David Shashy, who knew as well as I did what a sudden drop in temperature would do to spur buck activity.
With ominous, bluish-black clouds visible to the north, we headed south in order to hunt into the wind after sunrise. As the eastern horizon erupted into a pastel-orange glow, we got situated in a shallow opening in the brush and sat in silence, enjoying the magnificent light show as a brisk north wind whipped across the brush, dropping temperatures as well as some moisture. Grabbing my antlers, I whispered to David, "get ready", and began to drive the bases alternately into the ground for a minute before clashing them repeatedly together as hard as I could in an attempt to deceive a buck into believing a real fight was taking place. Within five minutes, a mature eight point, hyped up on testosterone, appeared standing only feet from us. Too naïve to realize it had been deceived, the buck remained motionless, staring in our direction, as water droplets dangled precariously from its shellac-black nose.