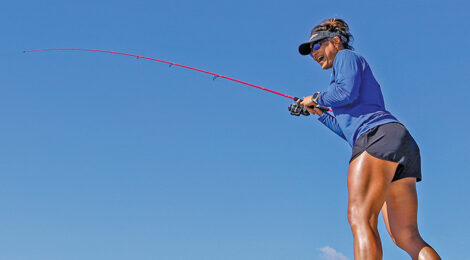 With lighter winds and rising water temperatures plenty of trout, redfish and other species will be caught shallow around a variety of structure and shoreline features.
Story and photography by Danno Wise
By May, the transitional period of early spring has settled out into a semi-regular weather and fishing patterns along the Texas coast. By now, even the latest of cold fronts are a distant memory and consistently warm temperatures are the norm.
Water temperatures are rising throughout the month of May and the water levels are consistently well above that of winter. Mix in a few big 'bull tides' and fish have plenty of 'new water' to explore. That water is also consistently clearer than it had been earlier in the spring, as wind has somewhat abated – or at least is not howling for 24 to 72 hours straight. In short, fishing conditions are almost ideal during the month of May.
The fish themselves will have noticed, too. Both speckled trout and redfish are focused on feeding on the myriad of freshly hatched crustaceans and finfish – many of which are seeking shelter along shorelines and over shallow flats.
Specks and reds will be joined on the flats by flounder, black drum and sheepshead, which have made their way back in from the jetties and passes where they spent their spring spawn. Thanks to the more tepid temperatures and abundance of eats, the fish found patrolling the shorelines and flats over the next few weeks will be above-average aggressive. All of this adds up to excellent shallow water fishing opportunities over late spring.
First to clarify – while winds have subsided from their peak velocity in April, May is still a spring month and wind can still be an issue. However, there are many more "average" or moderate wind days this month than the previous. Also because of the big water level and warmer water temperatures that are common during May, there are plenty of protected backwater areas that will both be fishable and holding fish.
************************************************************************
To read more, click here to SUBSCRIBE