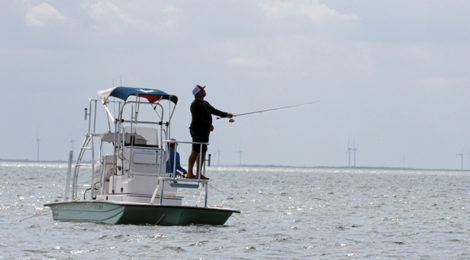 Early warm temperatures will force anglers to focus on prevailing conditions and fish behavior.
Story and photography by Danno Wise
Early summer patterns are something we usually talk about in June. However, this year the Texas coast experienced a warmer than usual winter. As a result, throughout the spring everything has been running a little early. Anglers should expect this May to be more like June.
Actually, along the extreme southern edge of the Texas coast, early summer patterns began to emerge in April. By May, the entire Texas coastal curve will be in an early summer pattern, meaning there will be more active fish in bays and fishing in surf plus nearshore waters will start to get going as well. The key to being successful this month will be to forget what the calendar says and adjust to the prevailing conditions and how the fish are behaving.
One thing that is a mainstay of early summer inshore fishing along the Lone Star State's coast is the topwater action for speckled trout. Late spring and early summer are the periods when large trout spend more hours on the shallow flats any other times of year. This is because the conditions, including water temperature is optimal for aggressive shallow water feeding – not too hot, not too cold. The combination of "just right" water temperature and a plethora of prey items results in some truly outstanding flats fishing for upper end specks.
Grassy flats with sand or sand and shell bottom usually hold the most fish this time of year. Flats pocked with potholes are usually more productive as these bare areas serve to "break up" the continuous acres of grass, offering fish structure of sorts and an ambush point from which to surprise prey items.
Surface action can be unbelievable during early summer. Both large and small topwaters can work this time of year, but "Junior" sizes often get the upper hand because there are so many recently hatched prey items in the bay that the smaller versions more accurately represent the most common meal.
************************************************************************
To read more, click here to SUBSCRIBE