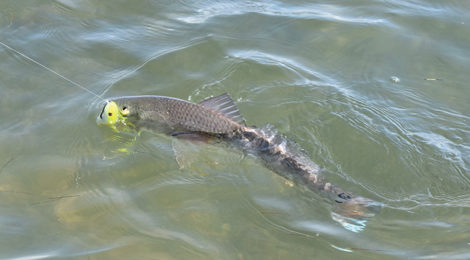 There's a stubby cigar-shaped weedless floater that is proving almost irresistible to coastal gamefish.
Story and photography by Robert Sloan
The wind was howling and as we streaked across the Lower Laguna Madre in the Shallow Sport with Capt. Ruby Delgado at the helm, I was not having a whole lot of good thoughts about catching any fish. Especially with topwater lures.
The day before we had smacked them while fishing with guide Larry Hensley. On his first stop we caught about 30 trout, with the heaviest being a three pounder that blew up on a pink D.O.A. PT-7. A lot of the smaller trout were caught on D.O.A. three inch shrimp under rattle floats with the best color being glow/gold rush belly. Towards the end of the day we had racked up lots of trout and a few reds that continued to be rattled up with the PT-7s.
Delgado guided the boat through a cut and onto a flat and eased back on the throttle.
"This area was good for some big trout yesterday and lots of reds," she said while grabbing a rod and climbing up on the center console. "Even though the wind is howling, we're going to catch fish in here. We've got plenty of mullet. It's just a matter of getting in on the right drift."
It didn't take long for us to figure out that Delgado had us on a very good drift. On my third cast a huge red blew up on the silver/glitter PT-7.
"Did you see the size of that red," she yelled from her perch on the console. It was huge."
On the very next cast that huge red totally crushed the PT-7. For the next few hours four of us caught and released upwards of 20 redfish. Almost all of them blew up big time on the odd looking topwater lures we had tied on.
************************************************************************
To read more, click here to SUBSCRIBE