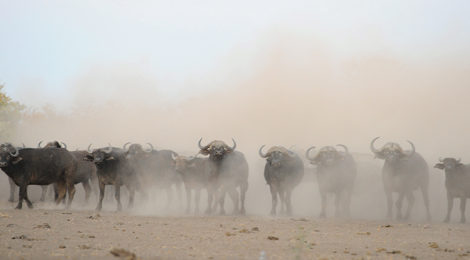 TOJ's Whitetail Editor recounts his 12th trip to Africa in pursuit of Cape buffalo and other game.
Story and photography by Bob Zaiglin
The chilly July winter air permeated my jacket as I sat atop a Land Cruiser while professional hunter Brent Hein negotiated the deep sandy single track roads of the lowveld in the predawn darkness on my second morning on safari in Zimbabwe. Other than relishing the cool temperatures, I was enjoying the sight of a huge herd of Cape buffalo when all hell broke loose on the right side of the vehicle, ending with the distinct roar of a lion.
Following a four hour ride south of Bulawayo, the fourth leg of our trip, my wife Jan and I were back in the Bubye Valley with our close friend PH Brent Hein and trackers William and Reggie.
After checking my .375, we dined on exquisitely prepared eland steaks, followed by enjoyable conversations about our families in Harare and Texas, while bright red ambers levitated skyward from our warm campfire like fireflies. A couple of miles out of camp the first morning, the cruiser drifted silently to a halt and Brent, with the ubiquitous shooting sticks in tow, entered the bush with me at his side. Moments later I was 60 yards from a herd of zebra with my gun on the sticks, awaiting Brent's confirmation as to which animal to shoot.