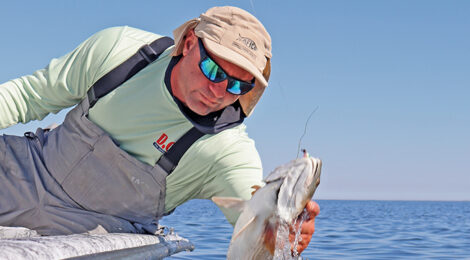 Many times, starting out with a stretch of unpleasant weather, there will be plenty of fishable days mixed in.
Story and photography by Danno Wise
January is the start of the new calendar year, but it is the mid-point in the winter season. By now, cool to cold temperatures have become consistent along the Texas Coast and fish in Texas bays are firmly entrenched in their winter pattern.
For many inshore anglers in the Lone Star State this means one of two things – either stay home or fish deep. However, January actually offers surprisingly good flats fishing opportunities for those willing to take advantage of them.
In fact, during the first month some of the largest speckled trout of the year will be taken anywhere from knee to waist deep – often these big fish are caught in "duck hunting weather." Numerous "solid specks" will be patrolling these flats as well, along with pods of upper slot redfish, black drum and flounder. As an additional bonus, flats fishermen willing to brave the elements will typically not only be rewarded with good catches, but also find plenty of solitude along the shorelines and in the shallows.
Sunny Day = Time To Play
On warm, sunny days between fronts, the flats will come alive. The vast majority of the action on these days will come between 10 and 2 – when the water is at its warmest. This also makes for an ideal sun angle for sight-cast fishermen. Pick the right day and anglers will have a variety of species to cast to – redfish are obviously the top target, but flats will also hold trout – including some truly monstrous specimens – black drum and sheepshead.
With cooler water temps during winter, there are less blooms in the water, thus clarity is much greater than at other times of year. So, more often than not, the shallows will be exceedingly clear unless it is immediately after a north or south wind associated with a front has stirred the water. This can make for excellent sight-casting opportunities, but also for skittish fish.
************************************************************************
To read more, click here to SUBSCRIBE