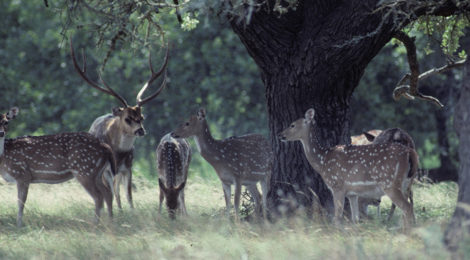 Background and hunting insights to entice more hunters to pursue this exotic escapee.
Story and Photography by Bill L. Olson
Feature Image by Bob Zaiglin
Decades ago my earliest introduction to exotic game in Texas was met with indifference. They were not native to North America, any trophy taken would not be recognized by the Holy Grail of trophy record keeping — Boone & Crockett Club, and most were on ranches where they were confined behind perimeter high fences at best.
Since then I've learned a lot, and when it comes to free-range exotics they are becoming somewhat of an obsession. My education on free range exotic game animals began in the early 1980s with hunting free-ranging nilgai on the massive Kenedy Ranch of south Texas. While not much in the way of horns, nilgai certainly are a challenge to hunt. One had better "load-heavy" with a rifle caliber and well constructed bullet that will put these tenacious transplanted antelope from India down for the count.
Over the years I had observed, and even had the opportunity to hunt, axis deer on some nice sized high fenced ranches in Texas' Hill Country where they had been stocked. Ranches of 1,500 – 3,000 acres that were only perimeter fenced would seem to give these imports, also from India's subcontinent, a fair chase chance.
I enjoyed watching the herd nature of these spotted-coat deer. Learned how the family group or groups travel together, plus how all of those pairs of eyes meant stealth and concealment was paramount. Opportunities were passed as the desire to pull the trigger was never met by the inspiration to act.