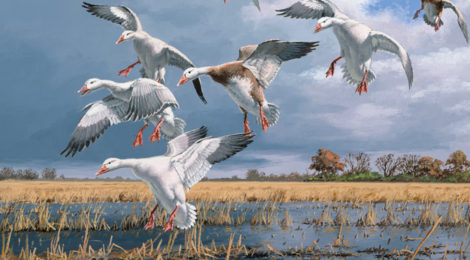 It's a start of a New Year and many Texans will have their shotgun in hand and offering prayers of thanks for spending a morning in a cut rice field with flights of snow geese trying to set down upon them. The sounds of callers beckoning the wary geese to spreads of white sock and full body decoys, only to be almost drowned out with the birds responding as they drift lower to take a closer look.
Finally, it is "gear down" as the geese commit with wings cupped cup and web feet extend. Then the hunt leader or guide yells out the anticipated words, "Take 'Em." On a crisp Texas morning few things can equal the excitement.
Renowned wildlife and sporting artist David A. Maass captures these wary birds settling into a Texas rice field. The question to be answered is it your field, or are you even there?
For more information on "Texas Light — Snow Geese" and other fine works of art by David A. Maass, contact Wild Wings at (800) 445-4833 or visit www.wildwings.com.