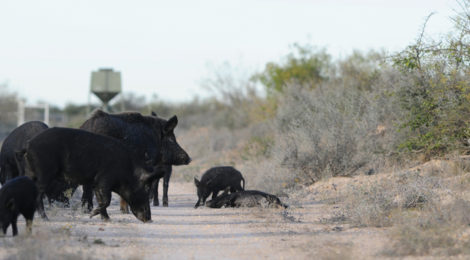 The ultimate control measure is harvest of wild hogs by either hunting or trapping.
Story and Photography by Bob Zaiglin
The feral hog and ringneck pheasant have one thing in common and that is both are immigrants to the North American continent. The ringneck was first introduced in Oregon in 1882 while the feral hog arrived some 500 years ago with Spanish explorers. But that's about it when it comes to similarities, as the Chinese pheasant is a flamboyantly-colored game bird displaying an ostentatiously long tail that has reached iconic status among wing shooters, while feral hogs remain for the most part a problem, actually an invasive species, causing much angst among land managers. Some two to six million hogs cause damage in at least 39 states and four Canadian provinces, and 50% of the population occurs in Texas.
At present, an estimated 1.5 million feral hogs occur in Texas. The population is spiraling upward at a virtually uncontrollable rate, expanding their range at an equivalent pace.
A significant portion of the hog population can be found in the eastern portion of the state where they can easily dig for roots and tubers of various plants along with grub worms with their coarse noses, but they are equally abundant in the harsh, desert-like environment of South Texas.
As Fernando DeSoto covered some 3,000 miles while exploring the southern portion of what is now the United States of America along the Florida Gulf Coast in 1539, he brought along hogs as a source of food, and over time some escaped and took a strong foothold in the region.