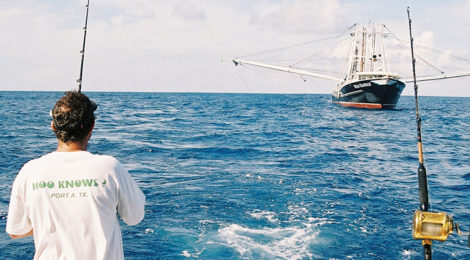 Options include snapper, kings and ling plus glamour pelagic species like billfish, wahoo, dorado, amberjack and tuna.
Story and photography by Robert Sloan
The Gulf of Mexico is not the most user-friendly blue water fishing destination. If the winds are kicking up and the seas are building an offshore run in this basin can be a bone-rattling ride. However, on the flip side when we catch the Gulf on a light breeze the ride out on ice cream seas can be worth the effort, one that can produce anything from five pound red snapper to 500 pound blue marlin.
I was talking to an offshore fishing friend just recently and he told me about heading to Freeport after fishing well over 100 miles out in upwards of 3,000 feet of water. They started out fishing around one of the huge deep-water drilling rigs. What made this particular trip so fine is that they had caught every thing but the kitchen sink.
It's started out with black fin tuna being caught on poppers. Later in the night they had chummed yellowfin tuna to the surface and caught them on jigs. At dawn they had idled away from the rig and trolled big marlin lures. Three hours later they had caught and released a blue marlin weighing about 275 pounds.
Later that day, before heading in, they would hook and ice wahoo and dorado. On their last stop, at a wreck about 44 miles out, they caught limits of red snapper and one ling. That's about as good as offshore fishing gets. But, believe it not, that kind of a trip is not that farfetched.
Over the past 50 years I've made offshore fishing trips all over the world and caught everything from sailfish on the fly to blue marlin on live black fin tuna. But on calm days with the right crew I've racked up some excellent fishing along the Texas coast.
Texas offshore fishing can be a grind. And depending on where you fish the run out can be anywhere from two, to over 100 miles out.