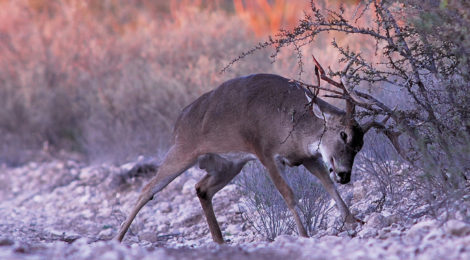 If there is a season to be prepared for the whitetail deer rut, it will be this one.
Story and Photography by Bob Zaiglin
When it comes to November, two things stand out in the minds of Texas hunters.  One is the arrival of cooler weather, the other is the advent of another deer hunting season and the chance to collect that buck of a lifetime.
Enduring a long, hot Texas summer, which oftentimes extends into the fall, only magnifies the anticipation for those comfortably cool temperatures in November when sportsmen exit their artificial air-conditioned environment to enjoy the outdoors doing what they like most — hunting with family and friends while enjoying the solitude nature has to offer.
November is also important to the rural businesses in small, often isolated towns throughout the state.  In South Texas, towns like Carrizo Springs, Hebbronville, Zapata, and Freer are buzzing with fancy top-drive rigs and four-wheel-drive pickups full of sportsmen dining at local restaurants and picking up materials needed to enjoy weekend excursions to their favorite piece of deer turf.  Sportsmen by the thousands venture across the Lone Star State in pursuit of the iconic whitetail deer.
The deer season opener to youngsters is second only to Christmas as they find themselves tossing and turning all night dreaming about getting a chance to test that new rifle.  The upcoming season may be the best in years when it comes to deer hunting.