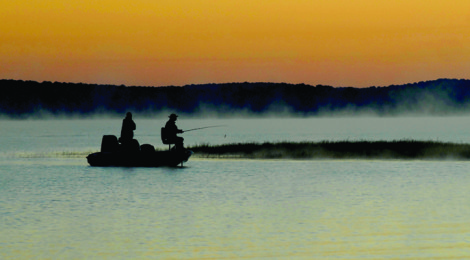 TPWD Angler Recognition Program giving credit where credit is due
Story by Matt Williams
Veteran Lake Fork fishing guide Gary Paris was competing in a team bass tournament at Lake Welsh last December when reeled in whopper of a channel cat.
It's not that uncommon to catch channel cat on artificial lures. They will readily hit spinnerbaits, Chatterbaits, crankbaits and other lures they mistake for an easy meal. The fat cat Paris caught gobbled up a Zoom Fluke.
"I've caught a bunch of them while bass fishing over the years," Paris said. "I could tell right away by the way it was fighting that it was a catfish and not a bass. Catfish do a lot twisting and rolling and you can see your line jumping around everywhere. Bass don't do that." Paris claims the fish weighed 10 pounds on a Boga-Grip scale. The angler didn't get a length measurement on the big cat before he released it, but judging from the picture it looks to be close to 30 inches.
Curious to learn how the fish stacked up against the current water body record for channel cat, Paris' fishing partner, David Fanning, accessed the records list on the Texas Parks and Wildlife Department's website.
Turns out Paris' channel cat was roughly 7 1/2 pounds heavier than the current All-Tackle lake record that has been in place at Welsh for 13 years.
Paris probably could have been successful in having the fish certified as a new all-tackle and catch and release water body record for Welsh in TPWD's Angler Recognition Program, but he chose not to pursue it.