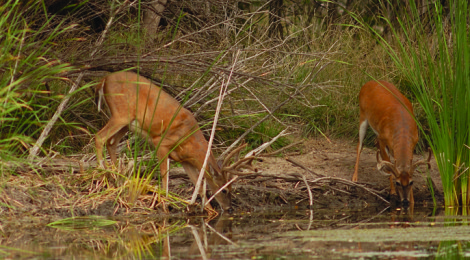 Overcome those off-season, no-deer-hunting blues by searching for these calcified appendages.
Story and Photography by Bob Zaiglin
Some sportsmen enter a state of torpor in March, but for the die-hard deer hunter, there are a variety of outdoor activities that can be conducted throughout this time period, one of which is the search for the antlers they failed to see on that particular buck they pursued during the previous hunting season.
As darkness declines during the spring, a pea-sized gland located near the center of a deer's brain called the pineal gland reacts to that reduction in darkness and sends signals to the pituitary gland to reduce the production of the male hormone testosterone. As a result, those antlers, firmly attached to the buck's skull, are jettisoned, and one of Nature's most incredible events, growing a new set of antlers, begins.
The nice thing about shed antlers is that they are not that difficult to locate, but it does require time walking around in an environment seldom visited by a hunter during the hunting season, thus searching for those calcified appendages represents an excellent excuse to get out and obtain a little exercise to burn off a few unwarranted calories while learning more about the habitat deer prefer.
When those ivory-like antlers are cast varies on a geographical basis. It can be as early as late December in the hill country to as late as May in the brush country. I have observed on several occasions bucks in hard antler in late May in Dimmit and Webb Counties. But a high percentage of bucks jettison their headgear during the month of March, and 95% of the antlers that adorn South Texas bucks are on the ground by mid-May. That relinquishes around three months of searching for sheds in some of the most user-friendly climate Texas has to offer.
The most productive places to search for shed antlers are on and around grain fields, water resources, and protein feeders. I would venture to say that most sheds are found on grain fields and at feed stations.