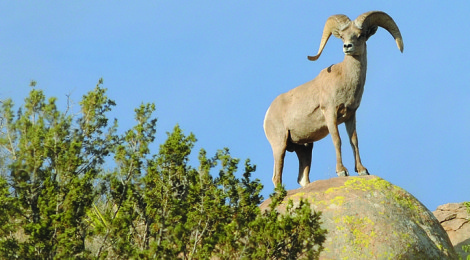 The history behind desert big horn sheep and of their remarkable return to their historic range.
Story and photography by Bob Zaiglin
While unsaddling my horse, I couldn't believe I was high in the Colorado Rockies and about to begin my quest towards a grand slam of North American sheep. It was mid September, and with luck I drew a Colorado sheep tag. Accompanied by my close friend Don Waechtler, we transported our gear eight miles by horseback to our base camp located at the bottom of a rocky, steep, treeless mountainside that I would be climbing daily in search of my first Rocky Mountain bighorn.
Seven days later after enduring the physical, sometimes debilitating effects of gravity known only too well by sheep hunters, not to mention an unexpected heavy snowstorm, I had successfully taken my first sheep.
Since that time, I have been privileged to hunt in the caribou moss-laden Mackenzie Mountains in the Northwest Territories where I capitalized on an outstanding Dall sheep and then to the Yukon in search of a stone sheep, but even though I failed to see a desirable ram, it was one of my most memorable mountain adventures as I took a grizzly, caribou, moose, and black bear. My quest for a stone ram climaxed on the Toad River in British Columbia where I took a 42" ram that now graces the pages of the reliquary for such rare jewels — the Boone and Crockett record book.