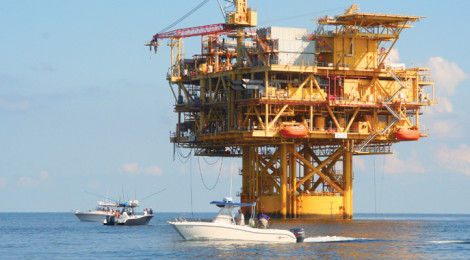 There are some rod bending brutes awaiting to test your skills in the Gulf of Mexico.
Story and Photography by Robert Sloan
It seems like the only thing that we hear these days about offshore centers on red snapper. That's mainly because NOAA has the regulations so screwed on the recreational take of red snapper that most deep sea fishermen are seeing nothing but red.
However, if the truth be known there are plenty more line tugging fish to be caught offshore. Some of the best players off the Texas coast include ling, king mackerel, dorado, amberjack, blackfin tuna and grouper. You don't normally have to run so far out to catch these fish. But if you don't mind making a long haul the deep water rigs out past 60 miles hold blue marlin, sailfish, yellowfin tuna and wahoo.
One thing is true about fishing offshore out of Texas ports – on any given day, anything is possible. The seas can be flat one day and bone cracking rough the next. Some days are euphoric, while others are a nightmare. But once offshore fishing is in your blood it's some of the best adventure you'll ever fall into.
For a number of years, back in the 70's, I made offshore runs out of Port O'Connor in a 17-foot Mako. With calm seas we could run eight to 30 miles out and catch a mixed box of tasty grouper, ling, amberjack, dorado and blackfin tuna. The water gets pretty deep in a hurry off Port O'Connor. With such a small boat making a successful run offshore was a matter of picking the right days with the right weather.
Out of Sabine you can be 20 miles offshore and still be in 30 feet of water where trout, reds and flounder can be caught. A number of years back I made a run offshore with Beaumont's Tom Munro. He had just retried from the dry cleaning business and had a new Ranger center console. We put in at Sabine Pass and made the run to a set of rigs about 28 miles southwest of the jetties. The water was 40 feet deep and loaded with fish. The first pipe stand we hit was swarming with small dorado in the three to five pound class. While reeling in those acrobatic fish a big ling cruised by checking things out. It looked nice going into the cooler on top of the colorful mahi-mahi. We ended up catching a few king mackerel at those same rigs. We got lucky that day and hit an area where the current was just right and the water was gin clear.