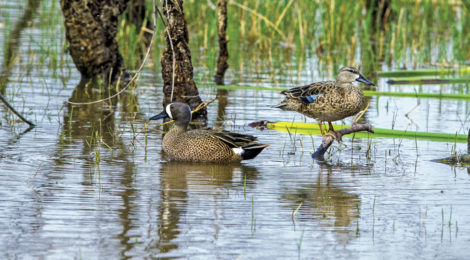 Everything you ever wanted to know about September hunts for blue winged teal.
By Robert Sloan
Unpredictable is a good word to keep in mind for September teal hunts. In other words these fast flying little ducks are here today and gone tomorrow. Today's 30 minute hunt, with limits of teal, can turn into a sweaty, mosquito slap fest with not a single shot fired the next morning. But one thing is for sure – hunting these feathered targets is an absolute hoot, which is why thousands of waterfowlers get in on the September action throughout the Central Flyway, especially in Texas.
Last September blue-winged teal numbers were at 8.5 million. That was way above the minimum of 4.7 million needed for a 16-day season, according to Kevin Kraai, TPWD waterfowl program leader. In 2014 bluewings were 73 percent above the long-term average. Last year green-winged teal were up around 4.1 million, 19 percent above the 2014 estimate and 98 percent above the long-term average.
The migration of teal is set in motion with cool fronts. It all starts on the northern breeding grounds and ends up in areas of Mexico and on down to the Caribbean. Blue-winged teal are the first to head south in August and September, and are later followed by greenwings. Conversely, bluewings are the last to head north to their breeding grounds in Nebraska, Kansas, and the Dakotas. That's usually during late April and May, a time when many fishermen along the Texas coast see big flocks of teal passing through on their journey north.
Some of the best hunts of early migrating teal take place in the Texas Panhandle on shallow water playa lakes. The success of hunters here depends on the amount of rainfall we get in late summer. If the playa lakes are holding water it's pretty much guaranteed that there will be some fast paced hunts.